Shoes Every Woman Should Have In Her Closet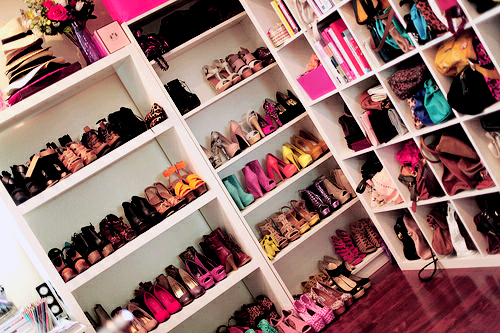 Estimated Reading Time: <1
By Hadiza Saidu
Different occasions call for different shoes. A woman can never own too many shoes, however there are few basics that we should all have in our closet. These basics make our wardrobe a lot easier to plan while we look stylish and fabulous at all times.
Basic Pumps:  The pumps is an all occasion shoe, it can transition from a day time to a night out shoe. Sleek and sexy, it sets off your work clothes due to its versatility as it matches nearly any outfit.  Every woman needs the basic pumps as part of her wardrobe collection. The black pumps in quality leather, lush suede or patent finish goes with any colour while the nude pumps compliments dark coloured outfits.
Ballet Flats:  Ballet flats are perfect for wearing during the day. They give off that casual but elegant and polished vibe. They can be worn with dresses, jeans and skirts. Very comfortable to wear, you can slip one in your handbag for use when your heels are hurting your feet. They also come in cute designs.
Flat Sandals: These roomy shoes gives your feet lots of breathing space.  Simple and strappy you can wear them with maxi dresses and maxi skirts. The embellished sandals can jazz up a simple outfit.
Wedges: Wedges are  easy to walk in as they are quite comfortable. They look gorgeous when paired with shorts and maxi dresses. They also give you a little lift.
Casual Sneakers: Sneakers are the way to go to pull off the effortlessly chic look. There are brands that sell really feminine and  chic ones aside from the gym friendly sneakers.  Sometimes tomboyish, pair it up with a sundress for a ladylike look. These looks really awesome with  denim shorts or sweater and a pair of jeans.
Sexy High Heels: Release your inner sexiness with a pair of high and ultra sexy heels. These can raise the bar of  your look by several notches, wear them to parties, a night out with friends or even hot dinner date. Choose colourful or metallic finishes, strappy designs or stiletto heels. Sexy high heels are sure to turn heads or melt hearts wherever you go, every woman should invest in a pair or more of these.