'Young, Restless & Daring' The Eku Edewor Outfit That Got Everyone Talking Debuts Sunday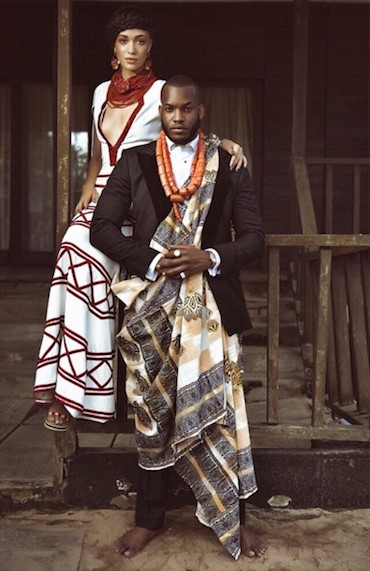 Estimated Reading Time: <1
by Zenith Oduah
Media Personality Eku Edewor and Lynxxx cover the new edition of ThisDay Style titled 'Young, Restless & Daring.'
The unveiling of the shoots obviously didn't just pass as any other Magazine cover without Nigerians on social media criticising; some termed the photo, an abuse on Africans, describing the role of Eku who is white and the children seen aiding her to her husband's home.
In the magazine, that will be out tomorrow, Sunday, the two entertainment personalities discuss how their backgrounds in terms heritage and culture have influenced their lives and careers.
Eku was however forced to explain Thisday's Style's heritage shoot after accusations of racism .
Eku, was dressed up as an Urhobo queen with her outfit comprising of beads and long gowns while Lynxxx, whose real name is Chukie Edozien, was dressed as an Asaba royal figure, fully clad in traditional outfits….
Look out for the magazine tomorrow for a complete read of their interview..

Photography: Asiko_artist
Styling:Kessianathorley
Production Coordinator: Nikimoth
Concept: Eclipsewa
Hair/Makeup: Dfalanaartistry
Dress: Iconicinvanity…