ISIS Makes Most Barbaric Video, Burning Jordanian Pilot Moaz al-Kasasbeh, Alive [Look]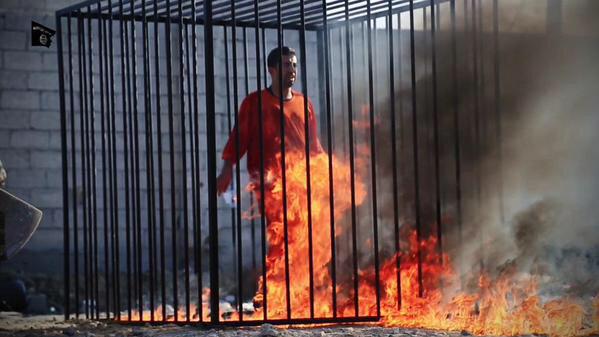 Estimated Reading Time: <1
ISIS has reportedly released video of Jordanian pilot Moaz al-Kasasbeh being burned alive. The brutal killing comes less than a week after ISIS reached a tentative deal with Jordan to release the 24-year-old lieutenant in exchange for Sajida al-Rishawi, a terrorist captured in Amman in 2005.
ISIS burns Jordanian pilot Moath al-Kasasba in it's latest video alive. New ISIS Video shows Jordanian pilot standing in a cage with line of oil leading to it, its then lit.
Al-Kasasbeh's F-16 fighter jet—part of the U.S.-led coalition against ISIS—was shot down in late December over northern Syria. Over the past ten days, ISIS has beheaded two Japanese hostages —journalist Kenji Goto and "security contractor" Haruna Yukawa—who were captured last year.