ECOWAS Issues Ultimatum and Sanctions to Reinstate Niger's Ousted President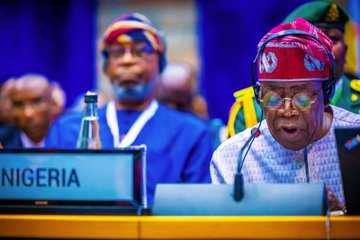 The ECOWAS Authority of Heads of State and Government convened an extraordinary meeting on Sunday, making a decisive move regarding the political situation in Niger Republic. They issued a stern seven-day ultimatum to the Nigerien military, demanding the restoration of constitutional order and the reinstatement of President Muhammed Bazoum, who was ousted from office.
During the meeting held at the State House in Abuja, ECOWAS leaders recognized Bazoum as the legitimate President of Niger and took decisive action in response to the coup. The bloc imposed strict measures, including land and border closures, and suspended all commercial flights between Niger and ECOWAS member states.
The President of the ECOWAS Commission, Omar Touray, announced these decisions, emphasizing that Bazoum's reinstatement was paramount. He revealed that all Chiefs of Defense Staff from ECOWAS member states would convene for an emergency meeting to strategize on effective ways to implement a potential military operation aimed at restoring Bazoum to his rightful position. Touray stated that ECOWAS would consider all necessary measures, even the use of force, to restore constitutional order in Niger.
Economic sanctions were also on the table. ECOWAS approved the suspension of all commercial and financial transactions between its member states and Niger. This included freezing all service transactions, including energy-related ones. Assets of the Republic of Niger in Aqua Central Bank, as well as those of the Niger State and state enterprises and parastatals in commercial banks, were to be frozen. Furthermore, all financial assistance and transactions with financial institutions, particularly EBID, were suspended.
The coup perpetrators had installed General Abdourahamane Tchiani as Niger's new leader. Tchiani, who had been heading the Presidential Guard since 2011, cited the military's response to the deteriorating security situation linked to jihadist violence as the reason behind the coup.
In response to possible foreign military intervention, the Nigerien military issued a warning about the consequences, expressing concerns about dignitaries contemplating confrontation. They warned that such actions would result in the massacre of the Nigerien population and bring about chaos.
The ECOWAS decisions underscored the regional bloc's commitment to upholding democratic principles and the rule of law. Their measures aimed at restoring constitutional order in Niger and reinstating President Bazoum were clear demonstrations of their stance against any attempts to disrupt democracy in the region.