@ChibuekeAmaechi Says @PDPNigeria Paid Religious Leaders N6 Billion To Campaign Against @ThisisBuhari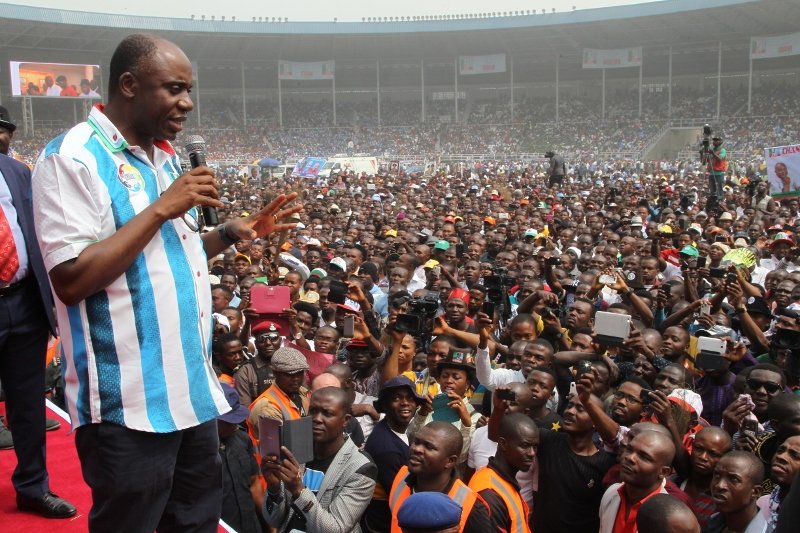 Estimated Reading Time: <1
The Rivers State Governor and Director-General of Buhari Presidential Campaign Organization, Rt. Hon. Chibuike Rotimi Amaechi, has accused the Peoples Democratic Party (PDP) of bribing some Christian religious leaders with N6 billion to campaign against the All Progressives Congress (APC) and it's presidential candidate, General Muhammadu Buhari.
He said the compromised religious leaders are circulating documents to Nigerians alleging that APC and Buhari will islamize the entire country if elected into power during the February general elections.
Amaechi, who spoke during the APC governorship campaign rally at Emohua, headquarters of Emohua local government area of Rivers state, said Nigerians were too enlightened for an individual or a political party to islamize the whole country, and advised the affected pastors to return the money to the coffers of the Federal Government.
The governor said, "Some pastors collected N6 billion and they are circulating documents and telling you not to vote for a Hausa man; not to vote for a Muslim that they want to islamize Nigeria. Tell them to return our N6 billion.
"They gave them N6 billion and they should return it to the federal government coffers. They will tell you that Buhari wants to islamize Nigeria, tell them we are too educated. I am a Catholic, but no Catholic priest has told me that story right now in the Catholic Church because I will ask him how?
"If any pastor tells you that, tell him to return the money. Nobody can islamize Nigeria and they have commercialized Jesus Christ. They should stop commercializing Jesus Christ. He is our Lord and Saviour.
"You know what Jesus Christ did in the temple, he chased them away. We shall chase away those pastors who have collected money from PDP to tell us lies. We shall chase them away on behalf of our Lord Jesus Christ."
He stated that the 2015 general election in the state would be a referendum between him and President Goodluck Jonathan, saying, "I told the President that the election in Rivers State is a referendum between him and me. I told him anywhere I go, I will show what I have done. Let him show what he has done."