Nigerian Military Take Over Mubi From Boko Haram Insurgents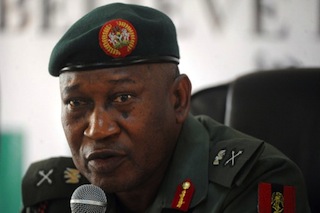 Nigerian Troops have completed the operation to clear Mubi, Adamawa State, of Boko Haram terrorists, who had mischievously renamed the town 'Madina' and operated in the town and the environs.
A mop-up operation is ongoing to apprehend and deal with those who might be lurking around neighbouring communities.
"Members of the terrorists group were dislodged after coordinated air and land operations in the area," the report added.
It said that more special troops are being deployed to other areas in the North-East axis in similar coordinated air and land operations to rid the communities of terrorists' activities.
PRNigeria quoted a top military officer as saying that desperate terrorists looking for escape routes may wreak havoc on soft-targets in neighbouring communities that are not affected in the military operation.
He said: "In their attempts to escape the intensity of military offensives, desperate terrorists have resorted to attacking soft-target in neighbouring communities."
The officer acknowledged improved understanding of the communities on the military operation but seek for more supports from the civilian population in identifying and exposing members of terrorists group.
"The people must be courageous and brave enough in identifying the terrorists that are mostly known to the locals to enable the military curtail the excesses of the insurgents," he said, adding:
"We are working assiduously to also tackle activities of moles, some very young who spy for terrorists and invite them for invasion of communities. We need the cooperation of the residents."