Why The Marriage Between Bola Tinubu & Nigeria's President-elect, Muhammadu Buhari Is Falling Apart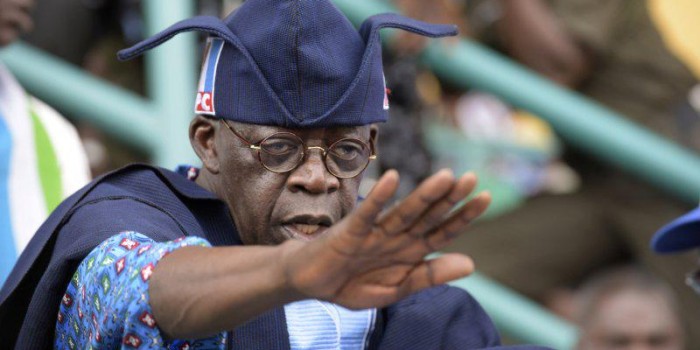 Estimated Reading Time: <1
by Musa Abdullahi
Bola Ahmed Tinubu, well known as the 'Jagaban of Bourdillon' and widely reported as the Machiavelli of Nigeria by the Financial Times for sealing the deal for Nigeria's President-elect Muhammadu Buhari doesn't seem too happy shortly after the elections.
Here's what we know according to sources from both sides, before the merger and throughout the elections, Bola Tinubu has been the one deciding for the South-West, from the nomination of Yemi Osibanjo,Nigeria's Vice President-elect, to the election of John Oyegun, the party National Chairman.
Speaking at the Lagos TV complex, Agidingbi while marking Fashola's 2,900th day in office, openly partisan Oba of Lagos, Rilwan Akiolu and a close friend to Bola Tinub, hinted on the fight between the Tinubu and the President-elect, Muhammadu Buhari.
He said,"People, who are now telling Buhari all sorts of things, are sycophants. They did not want Buhari to emerge winner in the election. These people know themselves. When it gets to a stage, I will name them one after the other. I am not afraid of human beings," Akiolu explained.
Tinubu and Governor Rotimi Amaechi, the Rivers man who is widely reported to have funded the Buhari campaign don't see eye-t0-eye, just to give our readers an understanding of what's been going on.
After General Buhari was declared winner of the polls, that's when he started avoiding Tinubu but opted for Ibukunle Amosun, the Ogun State governor.
A Chieftain of the party hinted NewsWireNGR, "Close allies to the General insists that if he must maintain his corruption free credentials, avoiding Tinubu will be the best decision, secondly, reducing his influence (Tinubu) will give him an opportunity to choose members of his team".
Amosun has been a long time friend of Buhari in the South-West, recall that Amosun was a former member and senator with the All Nigeria's Peoples Party, (ANPP) same platform with Buhari in the past, so the union didn't start today.
Though governor Amosun left for the Action Congress of Nigeria and is widely seen as one of Tinubu's governor's, "reality is that, Amosun is one of those governors that aren't loyal to Tinubu as many have made it seem", a source tells NewsWireNGR.
The face-off between Tinubu and Buhari became obvious when the President-elect approved the final lists for candidates of the 19 member transition committee, to Tinubu's surprise, only one of his nominee made the lists and was neither a Chairman or deputy Chair.
"Tinubu expected his candidate, Mr Wale Edun to have been chairman or deputy chairman, but that didn't happen as General Buhari also asked Amosun to send in names which gave room for the appointment of Mrs Nike Aboderin". A source within the Tinubu camp tells NewsWireNGR.
The source who doesn't want to be mentioned said, "Some of us are asking where was the 85-year-old Malam Ahmed Joda before now? How can we have a committee with a serious task and a man as old as Joda is expected to cross the T's and Dots the I's to do the job well".
Mr Wale Salami, is widely believed to have been appointed by Tunde Fashola and not Tinubu .
"General Buhari didn't depend on Tinubu for the South-West slots and that's where the problem is emanating from, he went on to ask Amosun and Fashola, and for someone like Tinubu, that's an insult to bring in representatives from the South-West region through a different channel". A party member, Shamsudeen Usman, privileged to the information tells NewsWireNGR.
Mrs Nike Aboderin the candidate that made the Buhari committee lists, shocked Tinubu. Aboderin was nominated by governor Amosun, she worked as the Senior Special Adviser on trade and investment as well as an economic adviser to the governor…
Shamsudeen continued, "The entire south-west just contributed about 500,000 votes which is smaller as compared to what the entire Zamfara, delivered to GMB not to even call states in the Northeast or Kano"
"So what's it that the region is bringing to blackmail Buhari into handing over the government to Tinubu who thinks controlling Lagos is same as Buhari?".
"Each time we talk about Buhari's administration, people are quick to remind us that without the South-west region, GMB wouldn't have emerged, thats a lie, with or without that region he would have, it was time for Jonathan to leave and nothing would have stopped him".
Nigeria's Former Vice-President, Atiku Abubakar is widely rumoured as GMB's favourite as well as Amaechi believed to have all the attention and the President-elect. Buhari had sent Atiku to lobby for the candidacy of Nigeria's Minister of Agriculture, Akinwumi Adesina as President of the African Development Bank (AfDB) and Atiku is one of the men with open access to the President-elect.
Another source said to NewsWireNGR, "Tinubu needs to understand that General Buhari will not serve him but Nigerians and what he thinks will work for the nation, we hear he is in Lagos trying to use the Press against GMB, but we will wait and see, we have seen the editorials already attacking Buhari".
Yemi Osibanjo who has been left at the Lagos State governors Lodge in Asokoro seems not to know what is going on as people are all headed to the defence House to Visit Buhari, "Osibanjo only attends meetings when he is called to do so by the President-elect" another source said.
"He was invited when the APC governors came around.. For now, he can't do anything but wait, i don't know why he needs to be part of every meeting by the President-elect, he is not the President-elect".
The Dailybeast story that reminded Nigerians about Tinubu's role in a drug ring in the US was planted by a chieftain of the APC, said another member at the party's headquarter.
"We have all known that Tinubu is involved in the drug cartel but how come all of a sudden people refer to him as the Machiavelli?, Nigerians need to be reminded because he is trying to display a clean image which actually he lacks".
The South-West APC governors apart from Rauf Aregbesola are tired of Tinubu"s overwhelming influence, reasons they have pushed to allow their nominees work with Buhari and what befell the "Lagos Strongman" in the inauguration list might still be fall him.
On Ministerial appointments, the APC governors in the South-West have all submitted three names each, same with their counterparts in other states of the country, reducing Tinubu's influence in appointments.
What will become of the two (Buhari and Tinubu) in years ahead, only time will tell, but Nigerians are eager for the Change promised by Buhari and his cabinet and not the in-fighting ongoing..
To pitch for editorials, Opinion and Exclusive gists, send to editor@newswirengr.com, we will follow up on the story……