Australian B'Haram Negotiator, Stephen Davis Is Compromised – International Society For Civil Liberties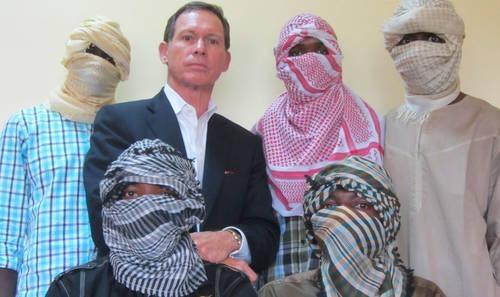 The International Society for Civil Liberties and the Rule of Law has accused the self-appointed negotiator between the Boko Haram terrorist group and the Federal Government, Mr. Stephen Davies, of compromising his role.
In a statement issued on Sunday, Intersociety said Davies broke the rule of confidentiality and neutrality when he chose to go to the media to declare some of his purported findings.
The organisation also queried the credentials of Davies as a third party negotiator in violent conflicts.
The Intersociety statement was signed by its Chairman, Mr. Emeka Umeagbalasi, its Head of Publicity and Campaign, Ms. Uzochukwu Oguejiofor, Head of Security and Safety Programme, Ms. Anita Onochie, and Deputy Head of International Justice and Human Rights Campaign Programme, Ms. Angela Onyinyechi Nwankwere.
The statement made available to PUNCH said, "The fundamental role of a third party negotiator in any violent conflict lies in the confines of neutrality and confidentiality. This includes his or her ability not to be bought over or compromised as well as having his or her efforts not politicized or hijacked and blown out of proportion by a biased interested party."
It said the Australian negotiator had fallen for the strategy of the terrorist group through the use of media propaganda to advance their cause. It added that Davies might have been hired as a third party negotiator to be used by Boko Haram to fight their superior opponent.
"We are compelled to submit that Dr. Stephen Davies wears the toga of a 'strawman' for the sponsors and sympathisers of butchery insurgencies in Nigeria.
"In the case of the so-called "Australian Hostage Negotiator" called "Rev. Dr. Stephen Davies", it is totally correct to say from the facts available in the public domain, that he is not an internationally respected hostage negotiator but a hired international 'strawman.'"