Nigerian Inflation Rate Hits 11.6%, Highest ever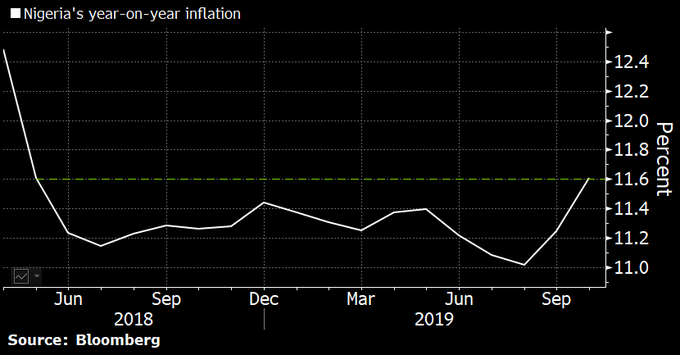 Estimated Reading Time: <1
The National Bureau of Statistics (NBS) in its latest report revealed that, inflation rose to 11.61% in October.
In the consumer price index, which measures inflation report released Monday shows an increase of 0.36 percentage points compared to 11.24% recorded in September.
The report released by the Statistician General, Dr Yemi Kale on twitter and monitored by NewsWireNGR, it shows that "The urban inflation rate stood at 12.20 percent (year-on-year) in October 2019 from 11.78 percent recorded in September 2019, while the rural inflation rate was recorded at 11.07 percent in October 2019 from 10.77 percent in September 2019,"
"On a year on year basis, the composite food index rose by 14.09 percent in October 2019 compared to 13.51 percent in September 2019," the 31 page report with a breakdown of the various states profiles revealed .
"This rise in the food index was caused by increases in prices of meat, oils and fats, bread and cereals, potatoes, yam and other tubers, fish and vegetables."
On a year-on-year basis, inflation was highest in Kebbi at 15.20% and lowest in Bayelsa at 9.07%.
For states, food inflation was highest in Kebbi at 17.53%, Ondo at 17.01% and Ogun at 17%. The slowest increase in the prices of food items was recorded in Kogi (12.12%), Katsina (11.18%) and Bayelsa (9.55%).
The Consumer Price Index, CPI bs NBS, "measures the average change over time in prices of goods and services consumed by people for day- to-day living".
"The construction of the CPI combines economic theory, sampling and other statistical techniques using data from other surveys to produce a weighted measure of average price changes in the Nigerian economy," the brief report methodology reads in part.
It says "The weighting occurs to capture the importance of the selected commodities in the entire index. The production of the CPI requires skills of economists, statisticians, computer scientists, data collectors and others".
To gather the data accurately, Dr Kale's signed report on behalf of the NBS noted that "Every month, 10,534 informants spread across the country provide price data for the computation of the CPI. The market items currently comprise of 740 goods and services regularly priced".
"The first stage in the calculation of the CPI is the collection of prices on each item (740 goods and services) from outlets in each sector (rural or urban) for each state. Prices are then averaged for each item per sector across the state", the document reads.