Old Fox, Babagana Kingibe Joins Buhari's Govt From The Back Door, Included In Osinbajo's Delegation To AU summit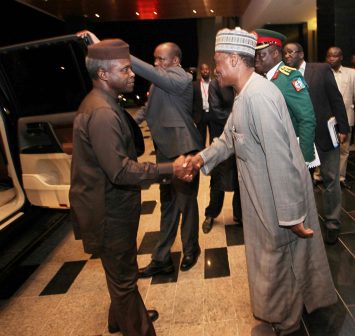 Babagana Kingibe is back to the system but with no known portfolios, is representing Nigeria at the ongoing African Union Summit..
Vice President Yemi Osinbajo (left) on his way to the AU Summit in Kigali, Rwanda, shakes hands with an official from his office
President Muhammadu Buhari will be represented by Vice President Yemi Osinbajo, SAN, at the African Union Summit formally opening on Sunday in Kigali, Rwanda.
On Osinbajo's delegation to the summit is former Minister of Foreign Affairs, Ambassador Babagana Kingibe, the man widely believed to have betrayed Basorun MKO Abiola, presumed winner of the June 12 1993 presidential election, to serve in the despotic regime of General Sani Abacha which incarcerated his principal.
A statement issued by Laolu Akande, Senior Special Assistant- Media & Publicity, Office of the Vice President disclosed.
The 27th Ordinary Session of the Assembly of the African Union (AU) is scheduled to hold from 17 to 18 July, 2016, although a retreat of African Heads of State and Governments has been scheduled for tomorrow July 16 ahead of the formal summit opening on Sunday.
The Session has been preceded by the 32nd Ordinary Session of the Permanent Representatives Committee (PRC) and the 28th Ordinary Session of the Executive Council of the Union at the ministerial level ending today.
The AU summit theme is African Year of Human Rights with a particular focus on the Rights of Women.
2016 is also being celebrated by the Union as the year of Human Rights with the aim of raising awareness on human and peoples' rights, particularly women's rights, on the continent and taking stock of progress or efforts made, including major challenges and/or obstacles encountered.
Prof. Osinbajo, who is being accompanied by Finance Minister, Mrs. Kemi Adeosun and Ambassador Babagana Kingibe, among other functionaries, leaves for Kigali today and is expected back on Monday.