Police Boss, Arase Moves To Remove Ibrahim Lamorde As EFCC Boss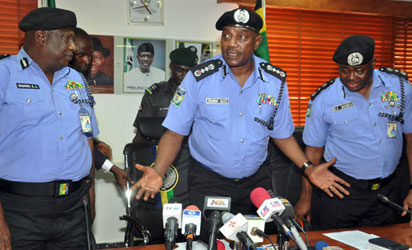 There are indications that the Inspector General of Police, Solomon Arase,  may have resolved to remove Ibrahim Lamorde as chairman of  the Economic and Financial Crimes Commission, (EFCC).
PREMIUM TIMES reports that he has directed that   all police officers who have so far served in the commission for five years, be recalled.
Lamorde, one of the least effective anti graft boss, is also ironically being accused of pocketing over N1 Trillion of cash recovered from suspects.
According to petitioner, George Uboh, ", on Naira recoveries alone, 'In a December 02, 2011 letter EFCC sent to the Chairman, House Committee on Drugs, Narcotics and Financial Crimes, EFCC stated that the aggregate recoveries from 2004 to 2011 (8 financial years) was N1,326,754,554,482:80. EFCC did not mention where the N1.3 Trillion recovered was remitted to. EFCC's claim that it
did not recover up to a Trillion is complete false."
In a letter, with reference number CB/33/80/IGP.SEC/Abj/Vol.52/60, and dated July 14, 2015, Mr. Arase directed the EFCC to compile a list of all officers in the category, and forward to his office without delay.
The directive, if implemented, would affect key leaders and investigators at the anti-graft agency – including the EFCC chairman – who has also spent more than five years at the commission.
Mr. Larmode has, cumulatively, spent 12 years at the EFCC.
He was appointed director of operations in 2003 under Nuhu Ribadu's leadership of the agency. He was then made acting chairman in January 2008 after his boss' controversial removal.
He handed over to Farida Waziri in May 2008, but was again appointed director of operations of the commission in December 2010.
On the removal of Mrs. Waziri in November 2011, he was named acting chairman and confirmed substantive head of the agency in February 2012.