Abdulsalami Abubakar, Ernest Shonekan, Olusegun Obasanjo At President's Buhari Inauguration In Abuja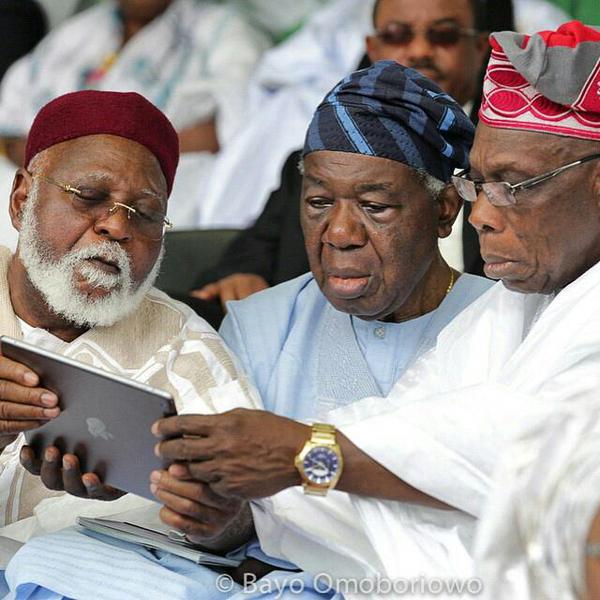 Estimated Reading Time: <1
by Zenith Oduah
Three Former President's of Nigeria, General Abdulsalami Abubakar, Ernest Shonekan, Olusegun Obasanjo were pictured together during the inauguration of President Muhammadu Buhari at the Eagle Square Abuja.
General Abdulsalami Alhaji Abubakar (rtd.) is a Nigerian general who was President of Nigeria from 9 June 1998 until 29 May 1999. He succeeded Sani Abacha upon Abacha's death. It was during Abubakar's leadership that Nigeria adopted its new constitution on 5 May 1999, which provided for multiparty elections. Abubakar transferred power to president-elect Olusegun Obasanjo on 29 May 1999.
Ernest Adegunle Oladeinde Shonekan is a British-trained Nigerian lawyer, industrialist, politician and traditional chieftain. He was appointed as interim president of Nigeria by General Ibrahim Babangida on 26 August 1993. Babangida resigned under pressure to cede control to a democratic government. Shonekan's transitional administration only lasted three months, as a palace coup led by General Sani Abacha forcefully dismantled the remaining democratic institutions and brought the government back under military control on 17 November 1993.
Olusegun Mathew Okikiola Aremu Obasanjo, GCFR is a former Nigerian Army general who was President of Nigeria from 1999 to 2007.
A Nigerian of Yoruba descent, Obasanjo was a career soldier before serving twice as his nation's head of state, as a military ruler from 13 February 1976 to 1 October 1979 and as a democratically elected president from 29 May 1999 to 29 May 2007.