"Warn Your Blood Thirsty Supporters" Fayose Picks Fresh Fight with Buhari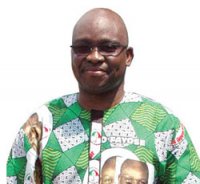 Estimated Reading Time: <1
Ekiti State Governor, Mr Ayodele Fayose has picked up a fresh fight with the All Progressives Congress (APC) and its presidential candidate, Muhammadu Buhari over unprovoked attacks on the campaign train of President Goodluck Jonathan in some parts of the north.
The governor, said; "We will no longer tolerate any orhestrated attack on Pesident Jonathan and supporters of the Peoples Democratic Party anywhere in the country." Governor Fayose, was reacting to the attacks of President Jonathan's Convoy in his campaign stops in Katsina and Bauchi states; alleged to be carried out by supporters of Buhari.
Governor Fayose , who spoke through his Special Assistant on Public Communications and New Media, Lere Olayinka, said President Jonathan's humility and silence of must not be taken for granted. He said "Buhari should not allow desperation for power to lead him into throwing the north into another orgy of electoral violence  as he did when he lost the 2011 presidential election.
Governor Fayose said; "Having signed a pact to maintain peace before, during and after the elections, it was expected that Buhari would talk to his blood thirsty supporters to let peace reign. He also, said "However, the orchestrated attacks on the campaign train of the president in Katsina and Bauchi States have shown that APC is not a party of peace and we are warning strongly that they must not put Nigeria on the spot.
"They must stop taking the gentility and civility of President Jonathan as weakness because an attack on the President of a nation is an attack on the country and Buhari should know that he will never be President of Nigeria by intimidation and blood-letting.
"The APC candidate should therefore talk to his blood – thirsty supporters in the North to stop attacking the president, else they risk reprisal attacks from Nigerians in other parts of the country."
Mr. Fayose, a fervent crusader for the PDP Presidential aspirations, has been in the news lately, for sponsoring two unedifying adverts about the APC gubernatorial candidate, Gen. Buhari. Both adverts in the front pages of national dailies implored Nigerians to reject the candidature of Buhari.
In the same vein, the APC had earlier today, released a statement warning the Ekiti state governor, not to do anything to scuttle their rally, in Ado-Ekiti, on Saturday. His brazen opinion about Gen. Buhari, it was believed, informed his decision to schedule a rally, on the same day, Saturday, as the APC's Presidential rally, in Ekiti.
In a statement issued in Lagos on Friday by its National Publicity Secretary, Lai Mohammed, the party wondered why Gov. Fayose will schedule a rally also for Saturday at Fajuyi Park, which is a major route to the venue of the APC presidential campaign rally.
"This is nothing but a deliberate act of provocation, and it is a dangerous game by a Governor who has now become notorious for making incendiary statements and taking irrational actions. Gov. Fayose should be told in clear terms that being the Governor of a state demands huge responsibility, not brazen rascality," it said.
APC wondered what point the governor was trying to prove by seeking to set the supporters of his party, the PDP, against those of our party, which is basically what he is planning to do by organizing a parallel rally along a major route to ours at Ado-Ekiti on Saturday.