Policeman To Die By Hanging In Bayelsa For Killing Man At Checkpoint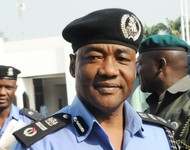 NAN
A Policeman, Mathew Egheghe, attached to the Bayelsa State Police Command is to die by hanging for killing a 20-year-old man, Victor Emmanuel.
Egheghe shot Emmanuel at a checkpoint on Sani Abacha Expressway, Yenagoa on Oct. 16, 2011.
After a protracted legal battle spear-headed by the mother of the deceased, Grace and human rights activists, a Bayelsa High Court in Nembe found Egheghe guilty of murder.
The court, presided over by Justice Lucky Boufili, however, discharged and acquitted two other men who were also charged with the offence.
The two men, Lucky Oberemelu and John Imeh, were acquitted by the judge for failure of the prosecution to directly link them with the murder.
Boufili held that the bullets that eventually killed Emmanuel were fired by Egheghe.
Referring to the report of the pathologist and the evidence he gave before the court, the judge said that nine bullets had entry and exit points on the body of the deceased.
"The pathologist certified the cause of death to multiple gunshot injuries," he said, adding that five of the bullets hit the deceased in the head.
The judge gave the sentence after listening to pleas for leniency from Egheghe's counsel.
"I have listened to the pleas of the defence counsel but the second accused person deserved a sentence to die by hanging," he said.