'Sentiments' An Art Exhibition By Sor Sen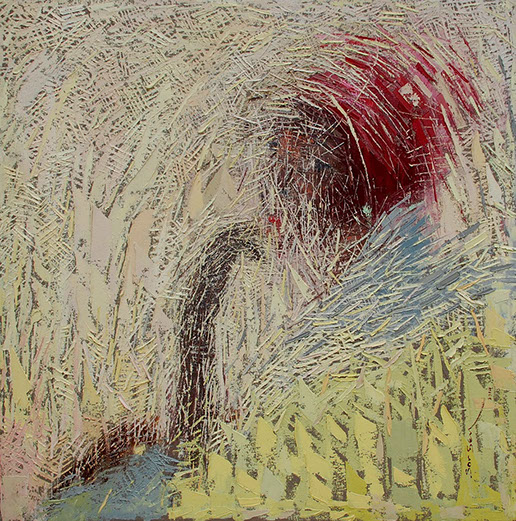 Tahir Sherriff
Painting is in itself a demanding discipline. Rather than revealing, it conceals the effort, the processes, the patience, and the intellect at work inside each and every work that is produced. This is why the world of painting remains an almost elusive and seemingly elitist circle to the Nigerian public. But young Nigerian artists are moving ahead to alter this dynamics.
A recent exhibition by celebrated Abuja based Nigerian artist Sor Sen is one of many alternative approaches to re-shaping the Nigerian visuals industry. The exhibition titled Sentiments and held in Abuja this December easily became a hub of creativity for the artist who had slowly become renowned on the local and international art scene. Sen expresses his motives of using painting to redefine conventional perceptions.
His works engage social and cultural narratives of his immediate environment, employing 'line', a fundamental element of art for expression with stylistic influences from post-impressionism. His paintings which are somewhat perceptive undeniably evoke conceptions which dramatize his style.
Sen speaks a different way of thinking, with each line; he redefines the seamless battle between What Is, as against What Is to Be. With brushstrokes under candle lights, lines, curves, moonlight reflections, sleepless days, lonely nights, years of practice and a bold step into a world where the brush has the final say, Sen re-calibrates our mind with flickers of images that inspire a range of ideas.
The event which was attended by representatives from the National Gallery of Art, the Embassies of Spain & Algeria and artists from several parts of Nigeria is simply another one of many exhibitions this artist has carried out over 10 years of consistent practice and study. Sen holds a BSc in Fine Art, and a Masters in Painting from the Ahmadu Bello University Zaria.
The young artist who in 2013 got a Special recognition by the Olusegun Obasanjo presidential library national art during its competition in Ogun state and recently won the Leonardo Da Vinci art award in Florence Italy says he remains committed to expressing himself through art.