Mr & Mrs Buhari And Mr & Mrs Osinbajo Cover Today's Thisday Style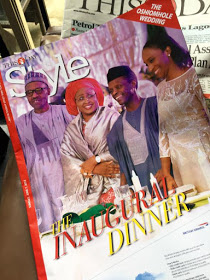 by Zenith Oduah
Nigeria's President Muhammadu Buhari and Vice President Yemi Osinbajo Covered Sunday edition of Thisday Style Magazine.
The couples were photographed during the inaugural dinner of the President and Vice at the Banquet Hall, State House Abuja.
And of course Aisha Buhari was seen with her controversial wrist watch said to have been valued at a whooping 10 million naira plus..
As expected, there were supporters and opposers as everyone wanted to know if the item of luxury is a gift or a prized possession..
According to a reliable source who talked with ThisDay, it is likely that the wrist watch is a gift from one of her female friends who has been hanging out lately with the first lady.
It is believed that this special friend of Aisha is seeking favour from the president for her husband who is eager to be on the president good books, and perhaps find high favour to walk in the highest realm of power in his administration.