Fulani Herdsmen Have Stated That Nobody Can Stop Them From Grazing Their Cattle In Southern Nigeria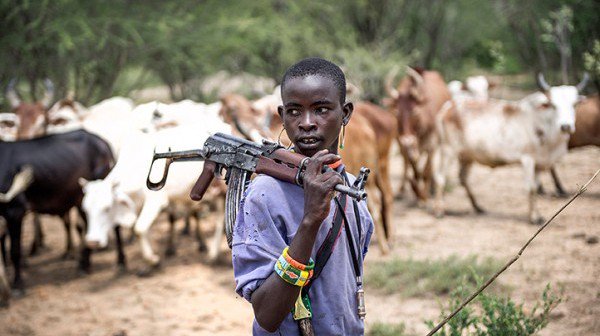 Fulani Herdsmen from different parts of Nigeria have stated that nobody can stop them from grazing their cattle in any part of the country, especially in the south. They described such restriction as unconstitutional.
The nomads, who spoke under the auspices of the Miyetti Allah Cattle Breeders Association, dismissed the ultimatums given by different groups for the herdsmen to vacate the southern part of the country.
This is despite the fact that groups, including foremost Yoruba farmers' pressure group and ethnic militia, Agbekoya Farmers Association of Nigeria in the South-West; the Movement for the Actualisation of the Sovereign State of Biafra (South-East); the Independent Peoples of Biafra (South-East); and some ex-Niger Delta militants in the South-South, stated their readiness to defend their territories should herdsmen attack their communities again.
Suspected Fulani herdsmen, who grazed their cattle from the northern part of the country to the southern part, had been accused of killing, raping and robbing members of their host communities.
The Enugu incident, where several lives were lost, was the most recent.
But the herdsmen, in separate interviews with our correspondents on Saturday, noted that it was wrong for people to restrict their movement as the constitution guaranteed their movement into any part of the country.
The Chairman, Miyetti Allah Cattle Breeders Association, Plateau State, Mr. Nuru Abdullahi, said nobody could deprive Fulani herdsmen of their constitutional right of free movement.
Abdullahi said, "Why would they ask them not to go to the southern part of the country? It is their constitutional right to move freely as guaranteed by the laws of the land. What the various governments and security agencies should do is to prevent attacks and counter-attacks and such things that breed violence like cattle rustling and trespassing into farmlands.
"The Constitution of the Federal Republic of Nigeria guarantees freedom of movement for every citizen of the country; this includes the right to live, work and carry out any legitimate activity in any part of the country. If and when you breach this freedom, then, the law should deal with you. So, asking anybody not to go to any part of the country is unconstitutional."