Former EFCC Chairman Declared Wanted For Allegedly Re-Looting N1 trillion Recovered Funds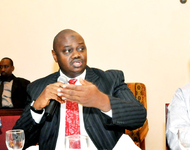 The Senate committee on Ethics, Privileges and Public Petitions on Thursday recommended the issuance of a warrant of arrest against the former chairman of the Economic and Financial Crimes Commission (EFCC), Mr. Ibrahim Lamorde, over alleged diversion of N1 trillion recovered by the commission.
The recommendation was made by Chairman of the Committee, Senator Samuel Anyanwu (PDP, Imo East) while submitting the report of his Committee on the petition by one Mr. George Uboh on the alleged diversion of the recovered funds.
Mr. Uboh had in his petition laid on the floor by Senator Peter Nwaoboshi (PDP, Delta North) accused the former EFCC boss of diverting 95 per cent of the commission's recoveries in foreign currencies.
He also alleged that EFCC under Lamorde colluded with real estate companies to undervalue seized assets before they were sold off to their cronies.
According to him, half of the assets seized from suspects by the EFCC during Lamorde's tenure were not reflected in the commission's exhibit records.
Sen. Anyanwu revealed that while the petitioner appeared before his committee to substantiate his claims, the former EFCC boss was nowhere to be found.
He said having waited for the appearance of Lamorde since 24th November, 2015, his committee came to the conclusion that the former EFCC boss was evading investigation hence, the recommendation to declare him wanted.
"Consequently, the committee reasoned that the way to get the former EFCC chairman, Mr. Ibrahim Lamorde to appear before it was to invoke the powers of the Senate in section 89 of the 1999 Constitution of the Federal Republic of Nigeria and compel his attendance. Unless this is done, the National Assembly might be drawn into consequential disrepute in the future", he said.
But the Deputy Senate President, Senator Ike Ekweremadu raised a point of order, citing sections 88 & 89 of 1999 Constitution, saying the issue should not be discussed on the floor.
"So what is required here is for the committee to issue a warrant of arrest and then the President of the Senate will direct the Police to effect the arrest. It is not the business of the senate during the plenary to do so. Otherwise, we will be offending this part of the constitution", he said.
Ekweremadu's point of order was sustained by the Senate President, Dr. Bukola Saraki, who asked the committee to oblige.