"Only 64 Gunmen Seized Mubi" From The Nigerian Military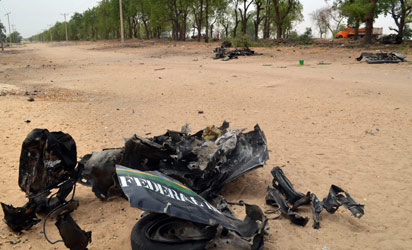 The recent capture of Mubi town in Adamawa State was carried out by only 64 Boko Haram members, a resident who fled the town said.
The man also told the BBC Hausa on Tuesday that the insurgents told the residents that only seven fighters attacked the military barracks.
"The boys have been on alert, as they continue to patrol the town," the resident said.
"They man all the junctions in the town and search all those coming into and going out of the town.
"Some of them went to a cleric and lectured him extensively. They told the cleric that they were able to capture the town so easily because what they stand for was the right path.
"They told him that only 64 of them launched attack on Mubi and captured the town eventually. The boys (Boko Haram) told the cleric that only seven people were left to handle the town's military barrack," he said.
The local, who spoke after he left Mubi, explained that there was not a single uniformed security officer in Mubi presently, "unless if they changed their uniforms to civilian ones."
He said some jobless youths alleged to be thieves were killed by the sect's members after discovering stolen cartons of foodstuff in their houses.
"They not only amputated them, but killed them after they found out that parts of Mubi town were set ablaze to enable them break into shops and steal," he said.
He said the insurgents, mostly youths, have been moving freely in the town and patroling all the streets with guns.
"When they come to you, you just have to say 'Allahu Akbar' and they will allow you to pass untouched," he said.