Fact Check: Rivers government did not order sudden shutdown of schools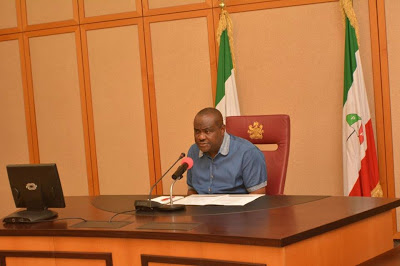 Estimated Reading Time: 2
Elfredah Kevin-Alerechi
Claim: Circulating Facebook and WhatsApp messages claim Rivers State Government has shut down all schools owing to rising cases of COVID-19.
Verdict:
Misleading: The circulated message is fake and misleading.
Full Text
On January 22, 2021, a circulating information on Facebook and WhatsApp groups claimed that Rivers State Government has shut down all schools for two weeks.
The message was posted on facebook and WhatsApp by some local reporters of the media.
Screenshot of post by local reporter
The message was also found on WhatsApp group of the Rivers State chapter of the Nigerian Union of Journalists. It was also circulated on public and private school WhatsApp platforms, resulting in arguments among teachers, principals and parents. While some teachers were in support of the post, some principals expressed doubt.
An extract of the message reads; "The Ministry of Education wishes to announce that, with the approval of His Excellency Governor Nyesom Wike, the school calendar published in August 2020, stands. Accordingly, both public and private schools in the State are hereby reminded that schools will be shut down on 22 January 2021 for two weeks.
Screenshot of post in NUJ platform
"Hereby all students are advised to stay home till further notice and proper analysis on the COVID-19 pandemic", the message reads further noting that the information is signed by the Permanent Secretary of the ministry, Chidi Adiele
Verification
A close scrutiny shows the message is similar to a previous information circulated with little change which Dubawa had debunked in 2020. The message urged students to return to schools whereas the state government has not directed schools to reopen because of surges in cases of COVID-19 infections.
Another quick red flag spotted is the conflicting content.
In paragraph two, the message reads; "Hereby all students are advice to stay home till further notice and proper analysis on the COVID-19 pandemic." This statement contradicts the earlier message that schools should remain shutdown for two weeks.
Also paragraph three of the message states that, "Because of COVID-19 Lockdown Schools are to maintain all COVID-19 protocols, including the wearing of face masks, use of hand sanitizers, and staggered classes/morning and afternoon sessions in order to avoid overcrowding". Dubawa finds this paragraph as more conflicting. The message conflicts with the first paragraph that asked schools to be shut for two weeks.
Dubawa also reached out to the state Ministry of Education. Commissioner for Education, Professor Kaniye Ebeku debunked the information through a text message.
A part of Professor Ebeku's message reads, "By this refusal, teachers, pupils, students, parents and guardians and the general public are invited to ignore the mischievous and misleading information."
Conclusion
The Rivers State Government has not ordered the sudden shutdown of schools as circulated on Facebook and on WhatsApp groups.
The researcher produced this fact-check per the Dubawa 2020 Fellowship partnership with NewsWire,NGR to facilitate the ethos of "truth" in journalism and enhance media literacy in the country