Unfathomable Horror: How my son was shot 38 times – most brutal suspected OPC killings in Lagos, a father's desperate cry for Justice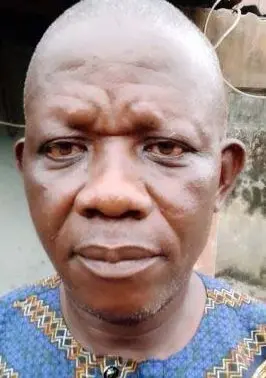 A 55-year-old man, Idowu Abiodun, has revealed how his 21-year-old son, John, was killed by suspected members of the outlawed Oduua People's Congress, OPC in Ajegunle of Lagos.
He said the armed OPC members pumped 38 bullets into his son until they were sure he was dead,  before leaving his remains in the pool of his blood.
Rather than arrest the culprits who he said were well known in the community, the helpless father said the assailants were still walking freely in the street, boasting that no one could do anything to them.
In an interview with him, he said, " My son was a vulcanizer. He left the house on Oduduwa Street, last week Monday, July 10, 2023, at about 7 am, to pray in a mosque on Bara Street, not too far from our house.
"He was my second son and lived with me. On his way, he saw some people shooting. He started running, to avoid being hit by stray bullets. But the armed persons who were on a motorbike chased him. They shot him in front of the mosque and he fell down. One of them alighted from the motorcycle and pumped several bullets into him until he died. There were 38 bullet holes on his back.
"His killers were OPC members from Tolu. When policemen from Ajeromi came, they provided protection for the killers. I thought they were taking them to the station. But when I got to Ajeromi division to lodge an official complaint, I was told to go and bury my son, as if it was a goat that was killed. The policemen I met at Ajeromi also told me to go to the State CID, Panti to lodge a complaint.
" When I asked why they did not arrest those involved in the death of my son since they knew them, they said I should go to section 4 at Panti".
Asked why the OPC members visited the area, he said they were invited because of robbery incidents at Agugu bus stop, Ajegunle.
He further stated  "That was not the first time OPC members would visit our area and my late son was not the first person they have killed.  They are thorns in our flesh.  Even when I accosted the leader of the team over my son's death, he said I can't do anything to him.
"I am therefore using this medium to call on the Police authorities to prosecute these individuals who carry themselves as untouchable. I need justice for my late son, even though I have buried him, as instructed by the Police", he stated, trying hard not to betray his emotion.
When contacted, the spokesman for the Lagos State Police Command, SP Benjamin Hudenyin said six persons had been arrested and transferred to the State Criminal Intelligence and Investigation Department, SCIID, Yaba, over the incident.