In the early days of January 2012, Nigerians woke up to the news of fuel subsidy removal by the federal government. The 10 days following that announcement saw one of the country's biggest socio-political movements; Occupy Nigeria.
On the backdrop of the protests that sprung up in Lagos during the movement, was a young underground singer and theatre performer; Ayobamidele Aladekomo, also known as ADUKE.
The debut single 'Hear the voice' was recorded and the DJ Tee directed video shot right in the middle of the protest in Ojota and the entertainment industry was introduced to ADUKE for the first time.
In the years following that, ADUKE has carved a niche for herself as a concious artiste and global art ambassador; performing at several notable events alongside artistes as Femi Kuti, Seun Kuti, Ade Bantu, Nneka, and more.
In 2019 , the multi-disciplinary performing artiste was named 2019 shining star in Lang Fang, China where she performed at The Shenmo Education Center. She was also made a honourary member and international consultant of the Shenmo Women's league.
After releasing singles like Made in Lagos, Far away, Leke Leke (a prayer for Nigeria), Iso Kekere, Ade Ori and Ori Taiye, ADUKE's debut album 'Peace & Light' has been released this February and according to the artiste; she has come to a point where she feels she has clarity about her artistic journey.
"Peace and light represents my present state of mind. I have to admit I am at a point in my life where I am at peace and I have clarity."
Speaking to NewsWire about the challenges while creating the album; she says: "Firstly, I had to learn to be true to myself. I had to ask myself if I am an artiste indeed. Make my art priority, sacrifice when needed to achieve art as pure as possible.
Secondly putting all my thoughts in 12 tracks, these days, running time for an LP cannot be as extensive so you have to intelligently curate your songs.
Financial challenge is also one that every indie artiste faces and I also experienced it."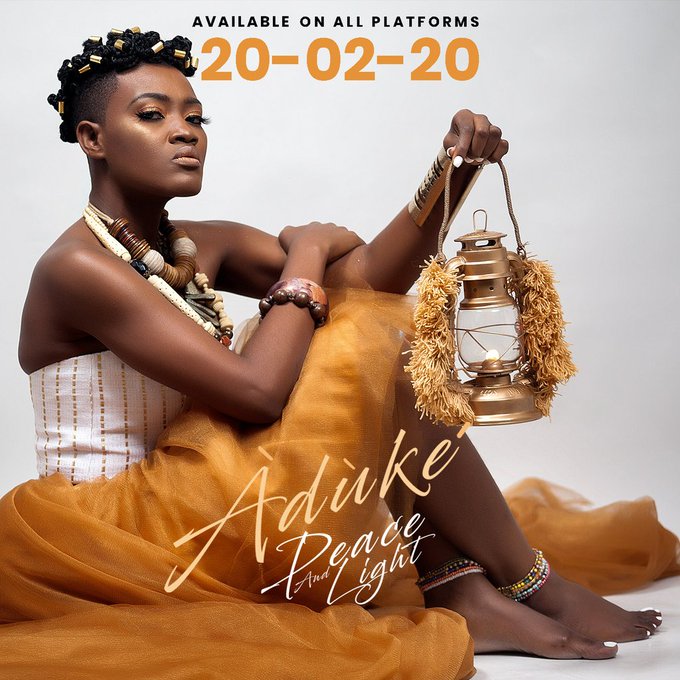 ADUKE's deep commitment to the Yoruba language and culture is apparent from her music, lyrics and how she carries herself, and her songs are filled with parables and proverbs — What informs her creative use of the language?
"My first language is Yoruba and I think with it. It is easier to process my thoughts with Yoruba, then compliment with English when writing. I am very intrigued by the Yoruba culture, the depth of Yoruba culture provides for all spheres of life, the adage, proverbs are all there to guide us.
The philosophy of Yoruba decodes most, if not all, the coded secrets of the universe and puts navigating through the journey of life in the hands of the sojourner
About her creative process, she says;
"Most times, my songs come as words or concepts first, then I play chord progressions on my piano or guitar to create music. Then build up layer by layer.
Does she think the Nigerian music industry is ready for her sound?
"Yes they are". She says. "There is so much content being thrown at the listeners, and there's bound to be genuine confusion owing to no fault of theirs but give them what you have, if it's good, they will accept and love it and possibly it becomes an alternative replacement for some people.
Music that has soul, message, inspirational and adds value to humanity with wholesome entertainment recipe to satisfy yearning of musical lovers not of a particular musical genre but has a global appeal".
ADUKE'S debut album, Peace and Light, is now available on all digital music platforms.