Fuel Scarcity Looms As NUPENG Commences Nationwide Strike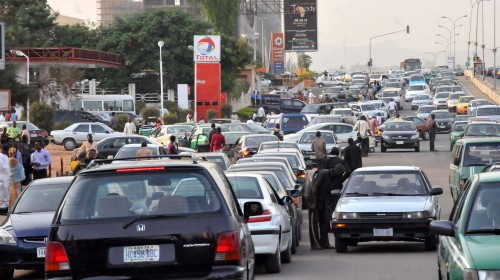 The Nigeria Union of Petroleum and Natural Gas Workers (NUPENG) has commenced a three-day warning strike across the nation, raising concerns on the likelihood of fuel scarcity.
Achese Igwe, president of the union, announced this after a national executive committee (NEC) meeting of NUPENG.
The strike, which will affect the flow of petrol to filling stations, has shut down seven crude flow stations in the Niger Delta, a union official said on Wednesday.
The strike is in protest over pay and job losses. NUPENG is one of several labour unions that have criticised oil companies for sacking workers in the last few months.
"Filling stations, petrol tankers and all NUPENG members are involved," Cogent Ojobo, NUPENG's Warri zonal chairman, said.
The union said the strike would last for three days and involve around 10,000 workers.
Ojobo said union officials would hold talks with Chris Ngige, minister of labour,.
"If the issues at stake are resolved and a communique signed, the strike would be called off," he said.
He also said workers had gone on strike at seven crude oil flow stations in and around Oleh, a town in Delta state.
"Seven flow stations belonging to NPDC were shut by the workers and they are still shut now," Ojobo said.
He also said the workers, who are employed by contractors, say they have not been paid. The flow stations were shut on Tuesday.
Ndu Ughamadu, a spokesman for Nigerian Petroleum Development Company (NPDC), a subsidiary of the NNPC, said checks were being made to establish whether the Niger Delta flow stations had been affected.
Last week, NUPENG held a strike at Total's fuel depots in a protest over sackings, but it was suspended after one day after an agreement was reached. No details have emerged about the deal.
The union is asking government to compel the management of Seawolf Engineering Oil Services that allegedly impounded the terminal benefits of its sacked members since 2013, to release them to the workers.
He recalled that AMCON took over Sea Drill Nigeria limited, in the guise of debt buy back and fired all the workers without paying heir due benefits.
Igwe added that over 4,000 oil workers have lost their jobs due to the ongoing divestment by Shell and other oil firms, which excluded the union.
He said several oil firms, including Halliburton, are suspending operations.
Igwe also lamented that most of the multinational oil firms had refused to respect existing labour laws.