"Era of Impunity Is Back" – Suspended Immigration Recruits Take Protest To Aso Rock #NigeriaImmigration2000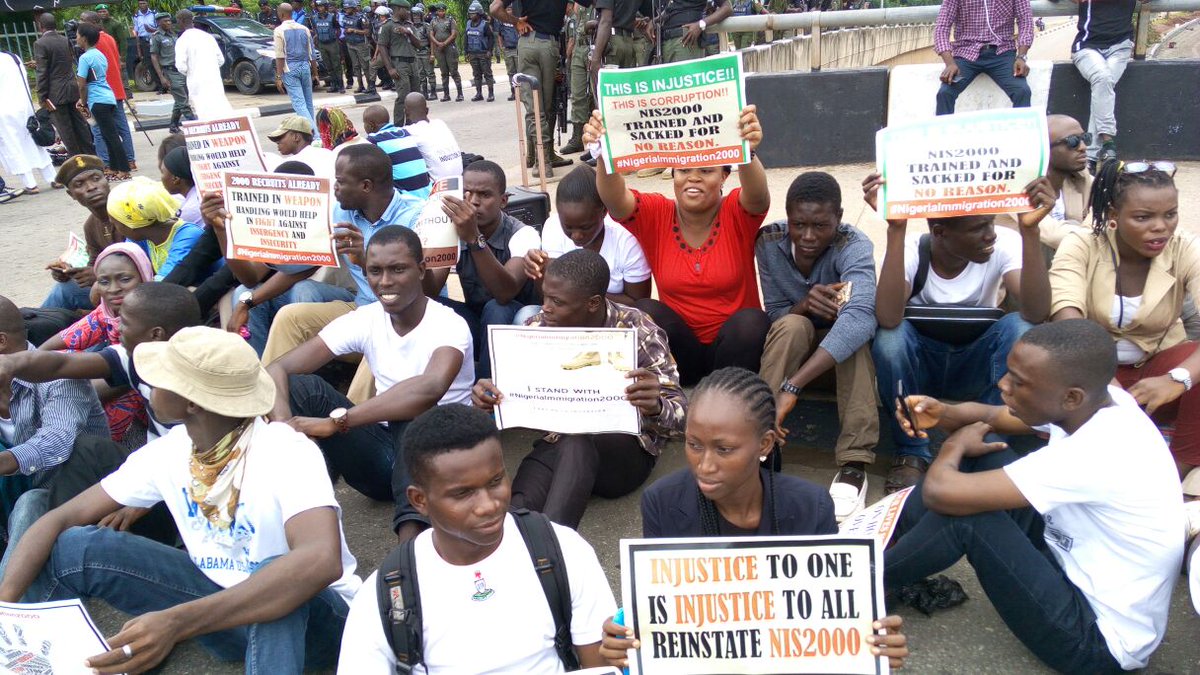 Estimated Reading Time: <1
Some suspended recruits of the Nigeria Immigration Service on Friday staged a protest march at the presidency to complain about what they said was an attempt to rob them of their jobs.
They are asking the immigration service to reinstate them in the spirit of justice.
At the Aso Rock, the protesters, however, could not go beyond a barricade mounted by the Nigeria Police Force.
Era of impunity is back
Does President @MBuhari think turning his back on citizens that voted him make him better? pic.twitter.com/4yUWpgsRy5

— Aisha Yesufu (@AishaYesufu) August 19, 2016
Representatives of the 2,000 recruits suspended by the Nigeria Immigration Service said that their patience was running out.
They alleged that the immigration authorities had since replaced their names with those of the children of the high and mighty in the society.
The spokesperson for the group, Aisha Yesufu, outlined their demands.
She said they had received three months training including handling of weapons and would rather serve their country than take to crime.
Authorities of the Nigeria Immigration Services said they suspended the employment of the recruits on grounds of irregularity but protesters insist the slots been handed to children of the elites as was the case in CBN and FIRS..
Hey people we are still at Aso villa so bring mats
No Retreat. No Surrender #NigeriaImmigration2000 pic.twitter.com/w1wv38x0Tf

— Aisha Yesufu (@AishaYesufu) August 19, 2016
To prevent the protesters from going into the Presidential Villa, the Nigerian Police came out in full force. The message was clear – cut short the protesters' journey.
Officials of the police force said they had to barricade the entrance in the interest of law and order.