Jonathan Kicks As Buhari Plans $2.1b Oil Cash Probe, Reportedly Storms Abuja To Protest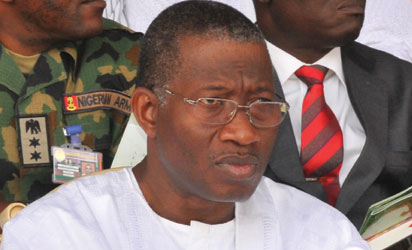 Former President Goodluck Jonathan has dashed into Abuja to launch a protest, The Nation Newspaper is reporting.
Dr Jonathan is disturbed by the determination of President Muhammadu Buhari to probe how $2.1billion was illegally withdrawn from the Excess Crude Account (ECA), sources said yesterday, pleading not to be named "because of the sensitivity of the matter".
Jonathan is said to be planning a protest to the Gen. Abubakar Abdulsalami National Peace Committee for 2015 General Elections that:
•the Buhari administration is trying to blackmail him and his erstwhile cabinet members;
•he is not pleased with the corruption tar being put on his administration; and that
•he is worried by the likely probe of the whereabouts of the $4billion taxes and dividends paid by the Nigerian Liquified Natural gas Ltd between 2009 and 2014.
Jonathan and some of his ministers are said to be angry that Buhari ought to know that such taxes and dividends are remitted to the Federal Inland Revenue Service (FIRS).
Another matter troubling Jonathan and his ministers, according to sources, is how the Nigerian National Petroleum Corporation (NNPC) under his watch allegedly blew N3.8trillion in three years.
The Abdulsalami Committee is yet to have audience with Buhari on the allegations made by Jonathan, a source said.
The former President arrived in the country last weekend to "defend his administration". He could not be reached for comments last night.
It was, however, learnt that he had chosen to table before the Abdulsalami Committee some issues, including the controversial $2.1billion withdrawn from the Excess Crude Account (ECA) without recourse to the National Economic Council(NEC).
A source said: "The former President returned into the country at the weekend but he is unhappy with the bashing of his administration.
"Jonathan believes that Buhari is blackmailing him and his ministers, contrary to the terms of the 2015 poll peace agreement which led to a smooth transition from the Peoples Democratic Party (PDP) to the opposition All Progressives Congress (APC).
"I think Jonathan approached the Abdulsalami Committee so that he will be left alone by Buhari who openly said he inherited an empty treasury from his predecessor."
A former minister in the Jonathan administration, who spoke in confidence, said: "The ex-President is unhappy that the administration of Buhari has been stigmatising his administration instead of putting him into confidence on issues.
"For God's sake, let them allow this man to earn his well-deserved retirement. If there is any observation by the new government, there are standard official procedures of addressing such."
NEC, on June 29, raised a four-man panel on how NNPC spent N3.8 trillion in three years.
The four 'wise men' are Governors Adams Oshiomhole (Edo), Udom Emmanuel (Akwa Ibom), Nasir El-Rufai (Kaduna) and Ibrahim Dankwambo (Gombe).
While awaiting the submission of the committee's report, Oshiomhole joined issues with the immediate past Minister of Finance, Dr. Ngozi Okonjo-Iweala, on how $2.1billion in ECA was disbursed without approval.
He said the $2.1 billion, only $1 billion was paid to oil marketers as fuel subsidy and about $1billion used for election purposes.
Although Mrs. Okonjo-Iweala claimed that the ex-President approved the spending of $1 billion, Oshiomhole said Jonathan had no right to do so.
He said any withdrawal from the account ought to be approved by NEC.