"Now I Know That Tinubu Owns Sahara Reporters" Top Tweets About The Saraki Citizenship Story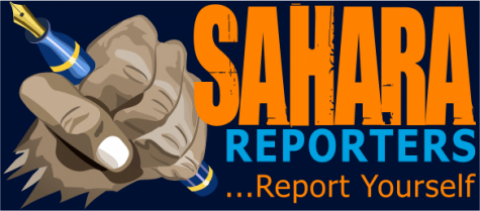 Estimated Reading Time: <1
Nigeria's online tabloid Saharareporters took to Facebook on Sunday to declare that Senate President, Bukola Saraki is not a Nigerian. The publication also accuses him of theft.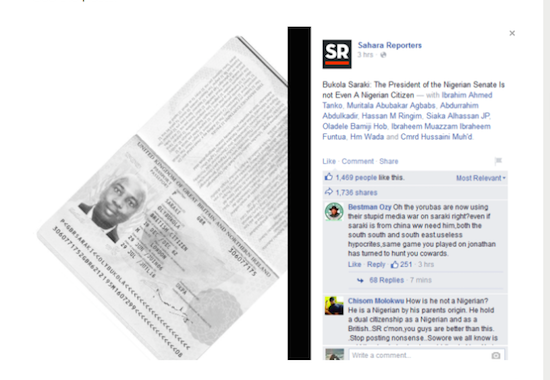 Even if @APCNigeria and. @AsiwajuTinubu sees Saraki Robbing Société General Bank, he is our Senate president pic.twitter.com/sRR8s06KYK

— OchinanWata 1 (@mr_ochonogor) June 28, 2015
And we bring to you a summary of the top tweets by Nigerians in reaction to the claims made by Sahara....
So Bukola Saraki is not a Nigerian!! ???????? Now i know that Tinubu Owns Sahara reporters ????

— KaraYe II (@Eminent_karaye) June 28, 2015
"When Bukola Saraki decamped to APC, he was not a thief. now that is not with us, he is. Ooh Nigeria. Diaries God oo

— Yaron Mallam (@faisal_fahadd) June 28, 2015
When we said Sahara Reporters and co were used by Tinubu machinery for propaganda, some denied. They are using same against Saraki already.

— iBelieve (@fransysok) June 28, 2015
Wait. APC propaganda has reached Bukola Saraki's citizenship? But when he was gathering votes in Kwara for Daddy Bubu he was son of the soil

— Bibi (@boluxxxx) June 28, 2015
Hmmm. The flashlights are on Bukola Saraki. Is he now in the bad books of the powerful lagos press?

— Ahmad Salkida (@ContactSalkida) June 28, 2015
You people want reconciliation but you're spreading a fake Bukola Saraki UK passport? Same way you said he called VP ordinary commissioner.

— Bukola Ogunyemi (@zebbook) June 28, 2015
Sahara Reporters is now telling us the obvious - a tool of Tinubu. Bukola Saraki's media team should brace up to this challenge.

— Kate ThaVincent (@ThaVincent) June 28, 2015
Sahara Reporters are out in full force, ready to bring Bukola Saraki down.

— Dipo Awojide (@OgbeniDipo) June 28, 2015
Inukwa nga nshi na-ekoshi oku. The Tinubu arm of APC dara iberibe nno. Ndi nzuzu. Ekperem by ka bukola saraki tinye ha na ogbahara part 2.

— RIP Kenneth Edet (@TSINWE) June 28, 2015