A Cry For Help: Controversial Cleric Father Mbaka Maintains That His Life Is In Danger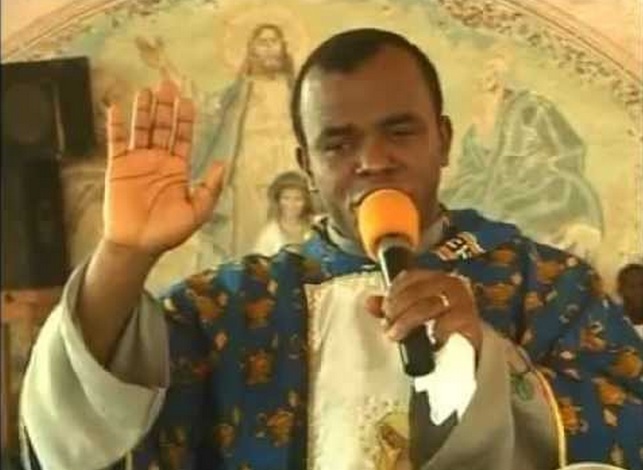 By Chris Nomjov
Enugu-based Catholic priest, Rev. Fr. Ejike Mbaka is still adamant that the his life is threatened. The cleric, who has gained controversial status in recent times, is now accusing Enugu police of not taking the threat seriously and claiming that some men packed in a Hilux bus came to look for him recently at his Parish but didn't find him.
Below is a statement he released via his Media Officer, Ike Maximus Ugwuoke.
"It is with a deep sense of concern that we are constrained to make this statement on the continued threat to the life of Rev. Fr. Ejike Mbaka over his 2015 New Year message titled "From Good Luck to Bad Luck. The Enugu State Police Command has refuted claims by Fr. Mbaka that his life is in danger. It dismissed Fr. Mbaka's outcry over threat to his life as baseless.
The Police Public Relations Officer, Mr Ebere Amarizu , DSP, was quoted as saying, "We do not have any report by Fr. Mbaka over threat to his life. We have not received any complaint from him".
On the backdrop of the above, one begins to wonder whether the alarm raised by Fr. Mbaka on an alleged plot to kill him was a mere rhetoric as the police had made it to appear merely because there has not been an official report to the police over it.
Absence of a formal report on threat to one's life doesn't negate the reality of such threat more so when the victim had made a public outcry on this issue.
To argue otherwise is akin to denying the fact of death in the face of a man's corpse merely because there is no certificate certifying his death…
Yesterday (Wednesday) strange hoodlums in a black Hilux besieged his parish compound but they left disappointed when they could not see him.
"Wherever and whoever this threat is coming from, we state that there are strong and compelling circumstances pointing towards the fact that Fr. Mbaka's latest attacks were stemming from his said 2015 New Year message, which was not favourable to the President Goodluck Jonathan-led administration."