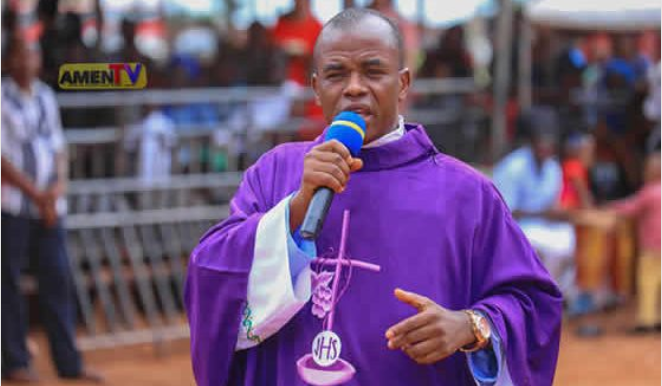 Excitement took centre stage, yesterday, as the Spiritual Director of the Adoration Ministries Enugu Nigeria (AMEN), Rev. Fr. Ejike Mbaka, returned to the state.
Mbaka had left Adoration Ministries in October, last year, following his transfer to a monastery, in Benin City, Edo State, by the Catholic Church. 
His transfer came shortly after the adoration ground was reopened after the church banned activities in the adoration ground in June last year.
On reopening the place, the Church turned the ministry into a Chaplaincy to monitor excesses in its activities.
Mbaka was also banned from commenting on political issues after activities in the ministry were suspended.
It was violation of the ban from commenting on political issues that caused his transfer to the monastery, and the appointment of Fr. Anthony Amadi to replace him as the Chaplain of the Adoration Ministry, a development that was initially resisted by his followers.
However, yesterday, hundreds of Mbaka's supporters trooped out on the road to welcome his return to the ministry.
They marched alongside the vehicle, which conveyed him to the adoration ground, in Umuchigbo, Nike, causing traffic gridlock along old Emene – Abakaliki road.
It was not clear whether the charismatic priest would resume duties at the adoration ground.