"Buhari Is Brain Dead?" NewsWireNGR Captures The 7 State Visit's & Provocative Quotes By Patience Jonathan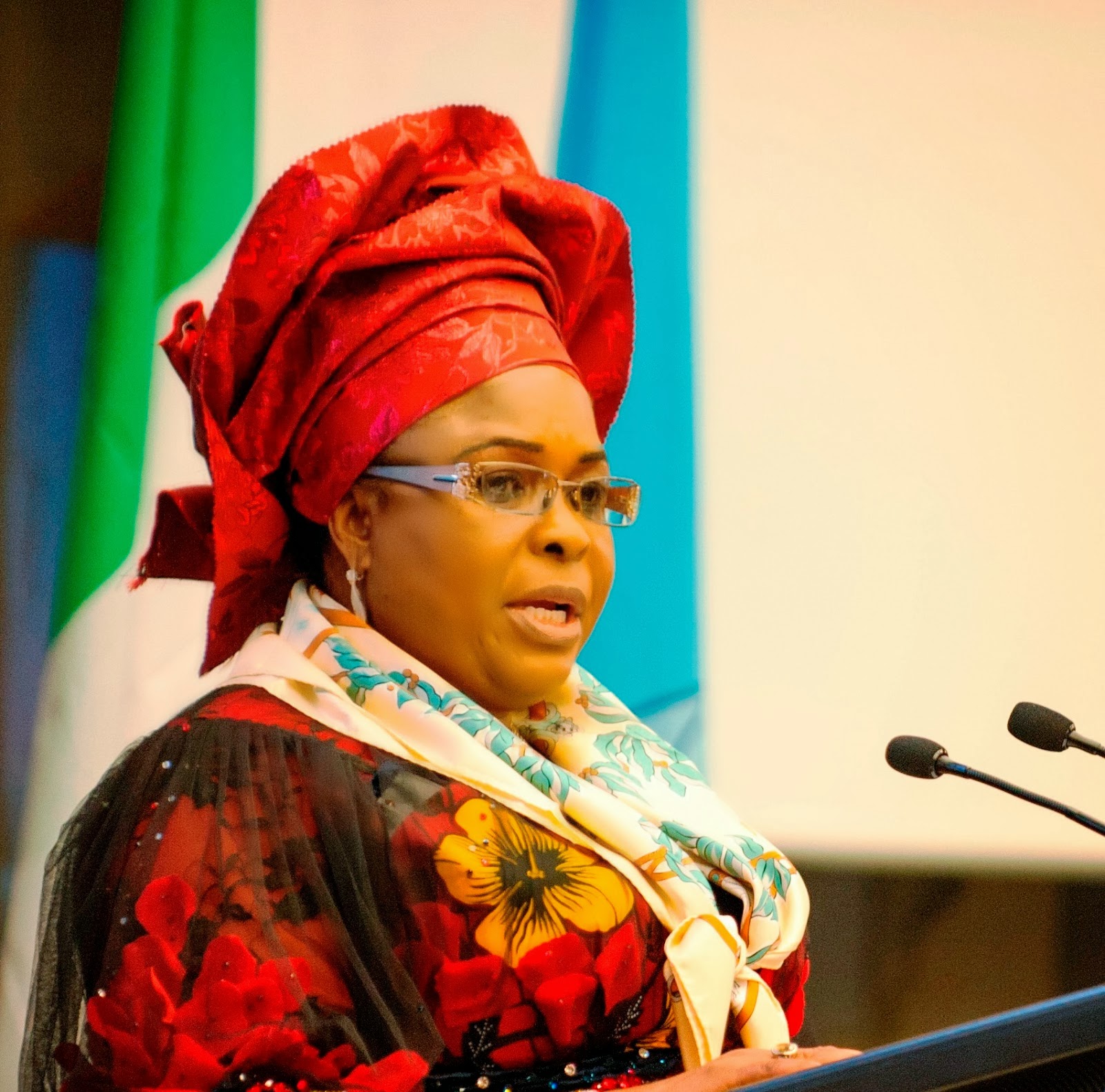 Estimated Reading Time: <1
by Chris Nomjov
The "Patience Jonathan's Manifesto"
A popular saying read "behind every successful man, there is a woman". Perhaps, it is in fulfillment of this mantra, that First Lady, Dame Patience Fake Jonathan and most recently, Hajia Aisha Buhari; have both taken to the political fields, to woo supporters for their husbands' respective presidential ambitions.
On her part, 'Mama Peace', as the First Lady is fondly referred has been somewhat controversial in her remarks in an undiluted approach to garner votes for incumbent President Jonathan in the March 28th, 2015 presidential elections.
Below are some excerpts from her nationwide tour, we bring to you the major statements by the wife of the President seeking re-election on the platform of the ruling Peoples Democratic Party, PDP.
In Akwa Ibom State Mrs Jonathan said, "Akwa Ibom people, judge o. Because we are not here for lies. We are not here for propaganda. Because their own number one campaign is corruption. As if them are not corrupt. They are not corrupt," .
"What do you call corruption? He has a house. You, are you living outside? Are you living in the forest? It's corruption.
"In abroad, if a young boy works so hard and buy a copter, we praise the boy. But in Nigeria, if a young boy works so hard and buy a copter, we say he's corrupt. Why?
"Why can't we encourage the young ones to grow? Why can't we encourage them to do better? We, our mother born us and train us, why they train us is that we should be better than them. Are we to bring the young ones down? It's not our portion."
Benue State, Dame Patience Jonathan as said ,"A 72 year old man has nothing to offer Nigerians" –
On the 2nd March, 2015 at IBB Square, Makurdi, in the First Lady's visit to Benue state, she alluded to Gen. Muhammadu Buhari's age, as a reason for voters to boycott his candidacy. "a child that is still crawling at age 72 does not have anything new to offer the people of Nigeria."
On her visit to Cross River State, She said "Change" is the slogan of the All Progressives Congress (APC). "Anybody that come and tell you change, stone that person. Anybody that tell you change, tell that person, carry your change and get away," Mrs Jonathan added.
She then moved to Delta State, where she alluded that "The PDP is a party that talks less and does more, unlike the APC that tells new lies every week. When you catch them today, they will tell another lie tomorrow. We (PDP) do not tell you about change because we are not bus conductors that ask for change." – 27th February, 2015
In Edo state, the President's wife asked supporters for two terms, "Everybody is staying there for eight years. Now it's our turn. We must complete our eight years. It is a constitution of this country. We will complete our two tenure and hand over.
"I am a peaceful person and I preach peace anywhere I go. They are looking for fight, they are looking for war. They are troublesome people. That is why they went and take expired drugs.
"Now they are crying. They are the people stoning people and nobody talk. They are dragging stadium but me I am ready to go to the street and do my campaign." – 14th March, 2015
Mama Peace as she is called while in Kogi State,  She said, "Wetin him (Buhari) dey find again? Him dey drag with him pikin mate. Old man wey no get brain, him brain don die pata pata," she said in pidgin English. "Even if you're in labor ward, tell pikin you will not die, I will not die and go out and vote Jonathan" – 4th March, 2015.
In Ekiti State, she said "What did they forget in Aso Rock? If you vote PDP and Jonathan, it would be better for you. If you vote APC, you will go to prison. How can you jail somebody for 300 years? I'm not ready to carry food to my husband inside prison oh" – 16th March, 2015
And to Kwara State, she took on Buhari's wife, "There is office for wife of President, but they were saying there is none. But soon they brought one 'hajia' as wife of the President and she is now saying 'don't worry, my husband made a mistake, we shall make provisions as necessary" –
"Nigerian women, if they (APC) come, tell them your mother you should not listen to them. God has opened the way for us. God has brought the Messiah for us. PDP is the Messiah."
"What are we going to take expired drug to do. Have you seen where APC cured any person" –