'Muhammadu Buhari Stole 2.8 Million Dollars When He Was Petroleum Minister'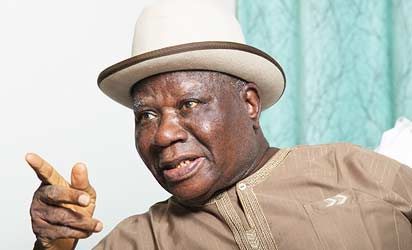 Estimated Reading Time: <1
Former Federal Commissioner for Information and South South leader, Chief Edwin Clark claimed yesterday that the Peoples Democratic Party, PDP and its Presidential candidate, President Goodluck Jonathan have already won the election.
Speaking yesterday at his Asokoro residence, Abuja when he received Youth Enlightenment Solution YES led by Ambassador Paulina Maimekere, Members of the National Association of You Win Awardee led by its President, Nwaigwe Tonia; Ex- Councillors Association of Nigeria, among others separately, Chief Clark who drew an analogy of light and dark, which he symbolises President Jonathan and the Presidential candidate of the All Progressives Congress, APC, General Muhammadu Buhari, retd, warned that Nigeria cannot afford to move from light to darkness.
According to Vanguard Newspaper, the Elder Statesman reiterated that the APC was a party of corrupt leaders that have nothing good to offer the nation, described President Jonathan as God sent to Nigeria, even as he stressed that if re-elected, the country will continue to enjoy peace, stability, unity and development.
Chief Clark who stressed that no body can stop President Jonathan from winning the election, as nobody an intimidate the PDP and Jonathan, vowed that the ruling party will not succumb to blackmail, adding that no amount of abuses will mean anything to the President.
According to him, " we have already won the election, nobody can stop us, nobody can intimidate us, we shall never succumb to blackmail. If you re -elect Jonathan as President for second term, there will continue to be peace, stability and there will be no intimidation. Jonathan is a man sent by God, humble. No amount of abuses will mean anything to him.
"He will not take those abusing him serious. Jonathan is the most abused President by people of bad character. People saying that Jonathan cannot fight corruption are the most corrupt. Buhari cannot fight corruption. He said bank borrowed him to buy form, what he is spending today, is he borrowed by bank also?
"Those funding his campaign are corrupt and they have cases to answer in court.? Let them answer that they are not corrupt, they cannot. Whoever want to abuse should look at himself first.
"They are not qualify to rule Nigeria. They lie about, raise uneccessary alarm. ? Buhari became head of state through a coup. He stole 2.8m dollars when he was Petroleum Minister. Buhari was to be probed for the loss of that money. But before the probe will start Buhari staged a coup. Locked up Shagari, Ekwueme in kirikiri. Every of their leader is a corrupt person. A corrupt leader cannot probe corrupt members".
He reiterated that Buhari was surrounding himself with corrupt people who are having cases to answer.
Earlier the leader of Youth Enlightenment Solution YES, Ambassador Paulina Maimekere ?who explained that they visited Clark to show their solidarity to President Goodluck Jonathan, stressed that the group has about six million members and that members of the group would begin an aggressive campaign in all the six geo-political zones for the re-election of Jonathan.
She said, "Having sat down and thought of the achievements of President Jonathan, the over six million members of this group have resolved to support the re-election bid of Jonathan.
"We are going to engage in the last minute campaign to change whatever deceptive impression the opposition may have created in the minds of Nigerians."