Presidency And Council Of States To Decide On Polls Shift, February 5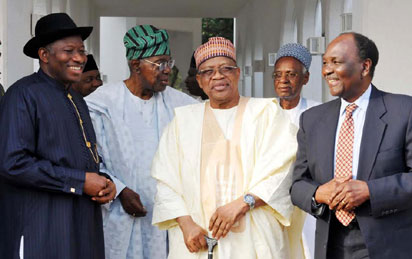 Estimated Reading Time: <1
Indications are rife that, President Goodluck Jonathan would discuss the possibility of shifting the elections, with members of the Council of States, in their meeting on Thursday, February, 5th.

Though, INEC had announced, ifs unequivocal stance of noy postponing the elections, some leaders feel the poll should be postponed to enable INEC distribute more voter cards to the public. Following the National Security Adviser, Alhaji. Dasuki's call for the shifting of the polls; NewsWireNgr also reported here that 16 political parties have thrown their weight behind the postponement of the polls.
The council of States consists of the President, the Vice-President, all former Presidents or ex-Heads of State, all former Chief Justices of Nigeria, the President of the Senate, all state governors and the Attorney-General of the Federation.

A Presidential official in Abuja disclosed to Punch that, "The truth of the matter is that if urgent step is not taken, Prof. Jega may end up ridiculing this country. Available information shows that the commission is not set for this election contrary to Jega's claim.

"We learnt he actually summoned a meeting recently with a view to postponing the election but he is scared of the opposition who have been kicking against such. This Thursday (tomorrow) meeting will definitely review INEC's preparations and take a stand."

Another Presidency source said Jonathan might use the opportunity provided by the meeting to garner support for the postponement of the polls.

"The Presidency is not resting on its oars concerning the plan to shift the elections. It is already in talks with some members of the council.

"If the plan fails, we would opt for another plan, which is to return to the drawing board; plan a new strategy on how to deal with our opponents." the source added.