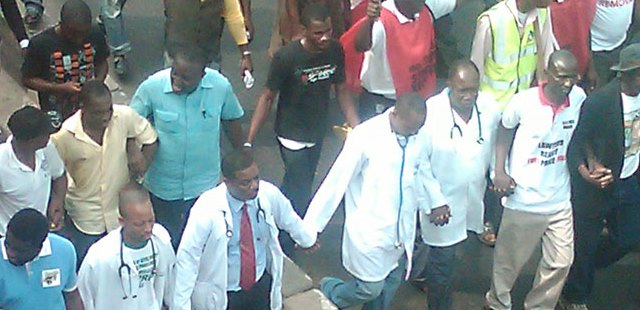 Joint Health Sector Unions (JOHESU), the umbrella body of Nigerian health workers, have suspended their three-month old strike, following a meeting with Nigeria's President, Goodluck Jonathan. The health workers, who have been on strike since November, 2014, are all expected to return back to work on Tuesday, says Ayuba Wabba, JOHESU's Chairman.
The suspension of the strike came immediately after the union was able to secure a meeting with Mr. Jonathan, one of the needs the union termed necessary in a communique released two weeks ago. Since the strike, which lasted three months, doctors ran the affairs of hospitals in Nigeria without help from nurses, laboratory scientists and other workers. This meant increased task for the doctors and slowed the pace of health care delivery in the country. In other government hospitals, such health services were not dispensed, in entirety, causing serious concern to Nigerians.
The health workers had also among other actions conducted a prayer and fasting session in agitating for their demands. Members were expected to ask God to touch the heart of the Nigerian government to accede to the unions demands. The union members were aggrieved that promises made by the Nigerian government that within three weeks, positive steps would have been taken to see Mr. Jonathan about the adjustment of CONHESS salary and other issues were not kept.
The Minister of Health, Khaliru Alhasssan, who also spoke, said it was important to forget all bickering that have happened in the between the JOHESU members and the Nigerian Medical Association, NMA, where some doctors were said to be attacked by health workers at Gwarimpa General hospital.
"Negative things that have happened have happened. Let bygones be bygones," Mr. Alhassan said.