Zakari Mohammed, One Time PDP Lawmaker That Defected To The APC Speaks [INTERVIEW]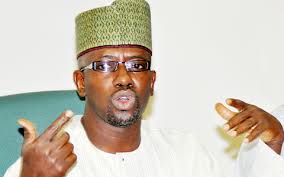 The House of Representatives member representing Baruteen- Kaiama Federal Constituency and Chairman House Committee on Media and Public Affairs, Mr. Zakari Mohammed, is one of the 37 lawmakers that recently defected from the ruling Peoples Democratic Party to the opposition All Progressives Congress. In this interview with SUCCESS NWOGU, he says why they did so

?What was the reason for the defection of 37 members of the House of Representatives from the Peoples Democratic Party to the All Progressives Congress?
I cannot speak on behalf of other members I can only speak for myself.
So, why did you defect?
Every politics is local. What I mean by local is that some people sent me to Abuja to go and represent them. And if at some point their desires are not met as a people, they have the right to at least look for a choice and they have seen a choice in APC. That is why they changed camp and asked me as one of those representing them to also change camp. If you are a true representative of the people, you have to be responsive to them. The good thing to do is to respect their wishes and aspirations.
But some people have said your defection and that of other Rep members from the PDP to the APC was not borne out of personal conviction but that you were compelled to dance to the tune of your political leaders.
No! It is far from it. A lot of us, I must say are not new politically. At least, I have been in this game for over a decade now. I went to school too. I know my left from my right. When I see what will benefit me and lengthen my political participation and representation further, I know. What is there for anybody to compel one? It is out of our personal conviction. We have been holding meetings and of course, it is a demonstration of all the efforts that we have come out with. Please, I do not want to appear as if I am speaking on behalf of others. You know that as a spokesman of the House of Representatives, I speak for the House; but this response is my personal opinion and does not represent that of the House. It should be taken as my personal opinion.
Thirty-seven members of the House of Representatives defected the same day. It could not have been by coincidence. How did you arrive at the group defection?
I have already told you that like minds had meetings. The parliament is a very interesting place. In the parliament, people will always come up with their own ideas. If there is change in political activities, our constituents have their own opinion. We too, as individuals, have our own opinions. We have to come together. In the parliament, there are like minds that sit down and rob minds together. We begin to look at our political future as young individuals and look at the yearnings and aspirations of the Nigerian people. The next question is which vehicle, which party can we belong to address the people's aspirations and desires. Like minds came together, took some decisions and follow up with action.
PDP is threatening the defectors with court action. What is your response to this?
My advice to those who are thinking like that is that they should study the court judgment very well before they draw their conclusions. They cannot declare my seat vacant. The only people who have powers to call me or make me lose my seat are my constituents, whose confidence I have.
You emerged as the spokesperson of the House of Representatives when you belonged to the PDP, then the dominant party, are you not threatened that by this defection, you may lose your position?
I was elected first and foremost as a member of the House of Representatives; every other thing that comes with it is an addition or a complement. So, in the opinion of the presiding officers, if they think that I am representing their views well, there is nothing to fear but if they think otherwise, why not? The prerequisite is with them.

What are the features that you have seen in APC that made you to dump the PDP for it?
One, it is my personal conviction. One may ask, 'am I at the right place now?' Considering the realities of my country now, is it possible for me to go back to my people with that same vehicle? These are questions that are food for thought. Can I win an election with that vehicle? Are my people comfortable with it? Have I been able to, at least, plough back to them, using the vehicle of the party that they gave me their representation in terms of the dividends of democracy? If the answers are in the negative, then why should I continue to be in that party? As a representative who is being saddled and should be actively concerned with the needs of my people, because I am a leader in my own right, on how to solve the problems of my people. Should I not take an action that will alleviate the plight of my people?
I am from a rural area and we have our roads. The whole length of our communities is cut off. Incidentally, they are federal roads. They have appeared in the budget for many years, but it has not been implemented. With this development, can I still proudly look at my people and say, 'the road between Kaiama and Kusobuso; the road between Kaiama and Wawa; the Kishi road and Kaima and Baruteen roads have been done. Can I go back to my people and tell them that these roads have been done? Is it convincing? What have I been able to get? Have I been able to get these roads done? These are salient questions. I should look for a place where the solutions to these questions can be gotten. The rehabilitations or constructions of these roads have been my own yearning and aspiration. I do not think that with their abandonment, I am fulfilled.
Having been a member of the PDP before your defection, is there any striking quality of the PDP that you will miss as you move over to the APC?
I have no comment on that.

Some critics say it is easy for Nigerian politicians to defect because they are not driven by ideologies. Do you agree to that?
For me, 14 years of democracy is too hasty to make such a conclusion. As it is, you may be tempted to say that, but it is very hasty. Fourteen years in the life of a democracy is not enough for one to say that ideologies have not been formed. I think I want to disagree with that assertion really.
With this gale of defection, will it not be a blow to Nigeria's democracy?
It will strengthen democracy instead. It will strengthen democracy because there are choices. Before now, there used to be oppositions that are weak. But now, you have quality opposition so that good governance will improve; so that complacency does not set in.

As the APC members are majority in the House of Representatives, do you not think that it might give room for the impeachment of President Goodluck Jonathan?

I have no comment on that, really. I have no comment because the instrument of impeachment is there and it is a last resort. Of course, before it comes, there should be reasons why it should come. It is not a thing that you bandy all about. We too wish democracy well. We do not want to unnecessarily heat up the polity as responsible citizens in the parliament. But if the right things are done, why would you ask for that? The right things should be done. You cannot have a perfect government anywhere in the world but it should be seen as moving on the right track.
As an individual, are you satisfied with performance of the present administration?
I want to make reference to all the resolutions the House had made and all other issues, and I align myself with those resolutions of the House in the past. That is my answer to your question.
Content Credit: PUNCH