Minimal age for secondary school admission is 12 — FG declares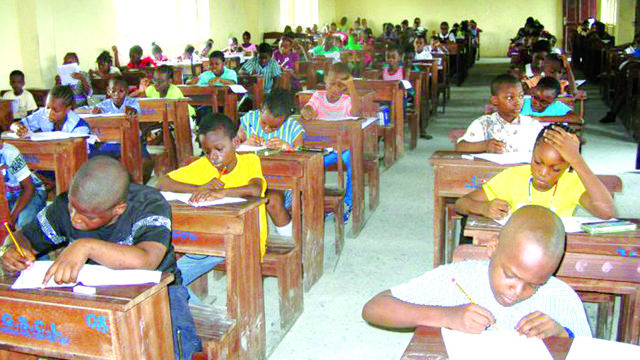 Permanent Secretary, Federal Ministry of Education, David Adejo, on Saturday in Abuja, stated the minimal age for secondary school students is 12 years old while noting admission for children below the age is unacceptable.
Adejo lamented the rate at which parents made their underage children to sit for National Common Entrance Examination.
"Parents are killing these underage children by allowing them to write the National Common Entrance Examination into Federal Government Colleges,'' NAN quoted him to has said.
He confirmed that some underage children were found to have sat for the 2023 examination; an act which he said was not good for their development.
Adejo said education was not about passing examination and advised that children should get to appropriate ages before writing the entrance examination.
He made the remarks while monitoring the 2023 examination alongside the Registrar of the examination body, the National Examination Council (NECO), Prof. Ibrahim Wushishi.
"We are getting to a stage where education is what you will use your knowledge to do for the society.
"When you make a small child to go through all these rigours, by the time he finishes secondary school, getting to the university becomes a problem.
"Parents should please let children get to the appropriate age before writing this examination and we are going to make sure NECO puts appropriate checks in place.
"We need to get the children to present their birth certificates before registration so that at our own end we are able to curb some of these excesses.
"To get to a secondary school, a child should minimally be 12 years old and a child of less than 11 years is unacceptable,'' he stressed.
Adejo said oversubscription made two candidates to pair for question papers at the 2023 exercise and assured that such development would no longer be tolerated.
"I was informed that there was enough provision for every child that registered, but more people registered as late as 11.23 p.m., whereas 12 midnight was the deadline for registration.
"By that time all questions papers had been despatched.
"NECO made enough provision to have extras for every centre, but because there was oversubscription, arrangements made were inadequate.
"NECO will henceforth put strategies in place for oversubscription.
"One of the strategies is that registration will no longer end a day before the examination, but a week before the exercise,'' he said.
Adejo noted that the campaign to increase girl child enrolment in school was yielding results as more than 38,000 girls sat for the 2023 examination out of the total 72,881 candidates registered for the exercise.
In his remarks, Prof. Wushishi noted the increase in the number of candidates registered by states in the northern parts of the country, which he said was better than the previous years.
"Lagos State has the largest enrolment of candidates in 2023, while the least enrolment was from Kebbi.
"As part of proactive measures being considered, we are intensifying sensitisation and reiterating the importance of the examination.
"We are also ensuring we keep to deadline for registration to avoid the problem of upsurge.
"Primary and secondary school education are compulsory for every Nigerian child. As a country, our children must hold this certificate to be useful both within and outside the country,'' Wushishi said.