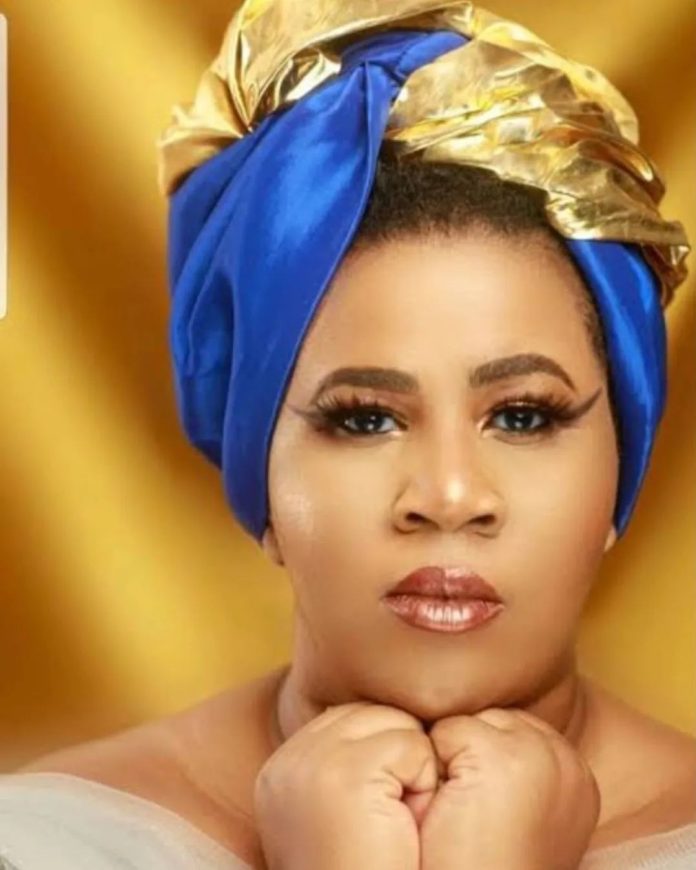 Biography
Chigul, real name – Chioma Omeruah, is a multi-talented Nigerian comedienne, actress, singer, and songwriter.
She was born on the 14th of May 1976 in Yaba, Lagos, Nigeria. 
The award-winning songstress is also a polyglot, as she speaks six languages, including Espanol, Hausa, Igbo, French, and Italiano.
She is also known for her ability to tweak her voice to project humour
Education
Chigul attended Airforce Secondary School, Jos and Airforce Secondary School, Ikeja, Lagos, for her secondary education.
She then proceeded to Abia State University (ABSU) for a degree but left overseas to attend Delaware State University, where she got a degree in Criminal Law.
Chigurl then left Criminal Law half way to opt for a degree in French
Career
Chigurl self-taught Spanish, Arabic, and other languages while studying French.
Chigul became a French teacher at a public school in the United States after seven years of studying French Education at Delaware State Education. Her career as a French teacher was extremely rewarding.
After twelve years of living in the United States, she returned to Nigeria at her father's request. This decision didn't go down well with her because she already had a stable life in the United States. A month after Chigul's return to Nigeria, she lost her father. 
Chigul had a natural talent for singing and acting but never for comedy. Comedy just happened to her. It was never intended. She creates amusing voice notes and sends them to her friends. Her friends would listen, laugh, and then delete the voice message. Then she performed a voice note that went viral on social media. That voice note signalled the start of her journey to stardom and fame.
She began as a singer under the name C-Flow, but this has been absorbed by her characters, the most prominent of which is Chigul. Chigul has a heavy Igbo accent.
Her first physical appearance was at Basketmouth's comedy show, where she was invited to perform live on stage.
Chigul appeared as a character in the Nollywood film Road to Yesterday. She also appeared as a guest on the single "Karishika" by Falzin 2015.
In May 2020, Chigul appeared in the Visual Collaborative electronic catalogue in a project called TwentyEightyFour. She was featured in the same project with Dakore Akande, Oliver Nakakande and Coppé
Marriage
Chigul was married but left the marriage after one year.
Net worth
NewsWireNgr cannot independently verify Chigul's net worth
Achievements
Chigul's Movies
Out of Luck
Road to Yesterday
Remember Me
Bandits
Wives on Strike: The Revolution
The Wedding Party 2
Banana Island Ghost
Chief Daddy
The Ghost and The Tout
Chigul's Songs
Hello (Hello – Cover)
Sumtin Tangible This Xmas
Blessing (Banana Island Ghost Original Motion Picture Playlist) with Mayorkun and Phyno –
1 Kweshun
Good Love featuring Barz (Afrobeats With Love, Vol. 4)
Sombori featuring Koffi (Colourborations)
Awards and nominations
Net Honours Most Popular Media Personality
Comedienne of The Year
---
Disclaimer
The information in this article was curated from online sources. NewsWireNGR or its editorial team cannot independently verify all details.
Follow us on Instagram and Facebook for Live and Entertaining Updates.
Always visit NewsWireNGR for the latest Naija news and updated Naija breaking news.
NewsWireNGRLatest News in Nigeria
Send Us A Press Statement/News Tips on 9ja Happenings: [email protected].
Advertise With Us: [email protected]
LISTEN to NewsWireNGR PODCASTS