Estimated Reading Time: 10
Getting Bola Lawal, the CEO of ScholarX and a seasoned connector in the tech ecosystem for an interview was fairly easier than I had thought.
Having been connected via a mutual party and discussed the scope of the interview, an excited Bola gave a simple and instant confirmation.
"My Oga. No wahala. I dey down," he said.
For two days, I and Bola Lawal had a chat, and he tells how escaping death in 2007 changed his approach to life.
What does life mean to you? 
Life is straightforward and simple to me, I have experienced a health scare that almost cut short my life some 13 years ago. As such, I have just had to live my life and enjoy simple things.
Entrepreneurship is humbling and I think that is part of why I am the way I am and it is very important to wear that as a badge of honour
I am not complex; it does not take me much to entertain me and it does not take much to get me inspired. So that is my motto, life is short, we are all gonna die one day. It is how impactful and meaningful life that we live in my own opinion that will make a difference.
Yoruba people say Aiiye o le, aiye o pe meji.
I believe in giving people a second chance so anyone that DMs me will get a reply at least once.
What is the most memorable part of your childhood?
We have a large extended family so I grew up with a lot of cousins. Sometimes, my parents separated, so we lived in our family house and I essentially moved on.
Growing up with a lot of cousins was interesting and exciting as well. I had a good time; we competed a lot with each other and that was fun.
Your career circles around leadership, technology, education, broadcasting and finance, what influences this feature of an all-round conqueror?
Laughs. All-round conqueror can be a stretch but the way I live my life is straightforward and I try things out while still keeping a common theme with everything I do.
I have a podcast but that was borne out of trying to give back to the ecosystem whenever we talk about tech, to share teachings but also to bring in people that I feel like across spectrums add value, and you know maybe can help someone cross their t's and dot their i's, to give people new perspectives.
And I feel like I am a connector, so whether I am trying to connect the dot within my own start-up, or trying to help other people connect the dots. I like to connect people and I think by extension, that has also brought out the creative side of me to say the creative podcast to reach out to people.
But in all, I am just that person that just wants to solve problems and help put people in position if I can. It is a privilege for me to be able to bring people together to solve problems, to achieve things together.
I do not like to dub too many things together. I am a thoughtful person and I always think through things.
What makes it work for me is that a lot of things that I do in one way or the other help. I cannot imagine the number of opportunities that come my way just for doing my podcast.
I just like to connect people, solve problems and create things.
It sounds cliche but happiness is free. No one comes to this world without facing challenges. Sometimes, there are ups and downs but I just keep it simple and focus on the things I enjoy.
I am an average sports fan; I love family and I love music; those three things fill me to channel my positive energy to things I care about. Like solving access to education problems, to help strengthen the ecosystem, building strong networks, projecting a positive image for Africa.
I am an average music consumer; I listen to all kinds of music from afrobeats to Fuji.
I may be a start-up founder and all but I ever forget my root. I grew up in Surulere, grew up in Aguda, Kilo bus-stop in Surulere so I am exposed to some things, largely a lot of music particularly Fuji music. I am an average Fuji consumer; I like afrobeats; I listen to Hip-hop, the whole American scene and all that.
I also enjoy watching Yoruba movies on YouTube, I love playing with my kids. I have a wife; I have a family.
I am a big Chelsea fan, I also watch American football, I am also a basketball fan; I support the Los Angeles Lakers because of LeBron James. I am on social media and I like to interact with people.
Are you scared of failure?
I am not scared of failure, I almost died in 2007 so why would I be scared of failure? The permanent thing in life that you cannot reverse is death, and I almost experienced it in 2007 so why will I be worried that I tried something and it did not work out, try something else.
At least, When you try something else, you won't be failing and if you fail, you can start something else.
I am not scared of failure at all. And I am not trying to make it a cliche but failure is the least of my worries. I am actually more scared of not trying, that freaks me out more than failure.
After years of travelling around Europe and America, have you been a victim of racial abuse?
It is bound to happen. I remember when I was in university; I worked at a department store but because I was selling a lot more and this guy, he got into an argument with me and started cursing me out. He said something like "Go back to the country you are from" even though I was a United States citizen. I was just looking at him like because I am black now, you assume I am from somewhere.
I do not really call that racism or discrimination; I do not really care about those things but that was quite telling; he got mad because I was doing better than him and the next thing for him is I should go back to where I came from.
And I had an accent that sounded like I am an immigrant. Technically, maybe I am because I came in my adulthood, but I was born in the US, I am a citizen.
The other experience was about two to three years ago, it is a light racism. The community centre in our neighbourhood was having an event and this guy just walked up to me like ooh, this is only for residents.
And I was surprised. Yea, it was a suburb, middle class, upper class live there but I guess we did not look like people who should live there.
There are subtle things you will encounter like being stopped in your car and there are no other reasons for being stopped except being that you are a black guy. I have experienced that a few times.
They worry me because I sort of shuffle between Nigeria and Texas and if you think about having your family and kids here; you get paranoid because of all the crazy things that happen.
What is the most surprising thing people do not know about you?
The most surprising thing about me is that I care about men's fashion. Throughout my university days. I worked at stores where I sew clothes and shoes, particularly shoes.
So shoes and watches are big things for me. Like I can even look at your foot and tell the designer of a shoe.
If I want to size someone up, nobody can tell that they do not size people up but the two things I look at are shoes and the watch they are wearing for at least, men.
One of the things that attracts me to connect with someone or do business with someone, first thing I look at is the shoe or watch.
And that is one thing that has helped me in being an entrepreneur because I was a shoes salesperson in stores that I work with.
You have recently been talking about a new product using Kairos operating system, what is this product?
LearnAM is in pidgin for Learn it and it is simply a product that gives access to the masses to digital skills, vocational skills where they can learn at their own pace in both in English but most importantly, in their local language.
LearnAM is available on feature phones through Kaios – an operating system just like android but it allows feature phones to have apps.
And the whole idea is to give access to people who cannot afford expensive smartphones. It gives them the ability to get on the internet and teach them digital skills.
The product is launching formally in June, even though it is now available on the Kaios store. We have a large partnership with a Telco that we will be announcing as well as a device financing partnership with a digital bank that helps give people better access because it allows them to pay in instalments. They get the device and they pay.
This product is at cooperative traders, companies can use it for their employee-training programmes, delivery or logistics companies that can use it to teach their drivers how to use GPS, teach them customer relations etiquettes. A lot of these content will be in Pidgin, Yoruba, Hausa, Igbo and a lot of other languages.
We are starting off in Nigeria but it is a pan-African product and we are not waiting. We have some conversations already with some Telcos about moving the product to other African countries fast.
People need to learn skills, people need to learn how to participate in the digital economy and that is why we have created LearnAM.
You can learn how to fix mobile phones in Yoruba or Pidgin, or you learn health hygiene, you learn the benefits of recycling or you learn things in agriculture. And these are short courses and there will be certifications on the platforms as well.
And there is an opportunity to earn as you learn. At the end of learning, students can get into a raffle and win things.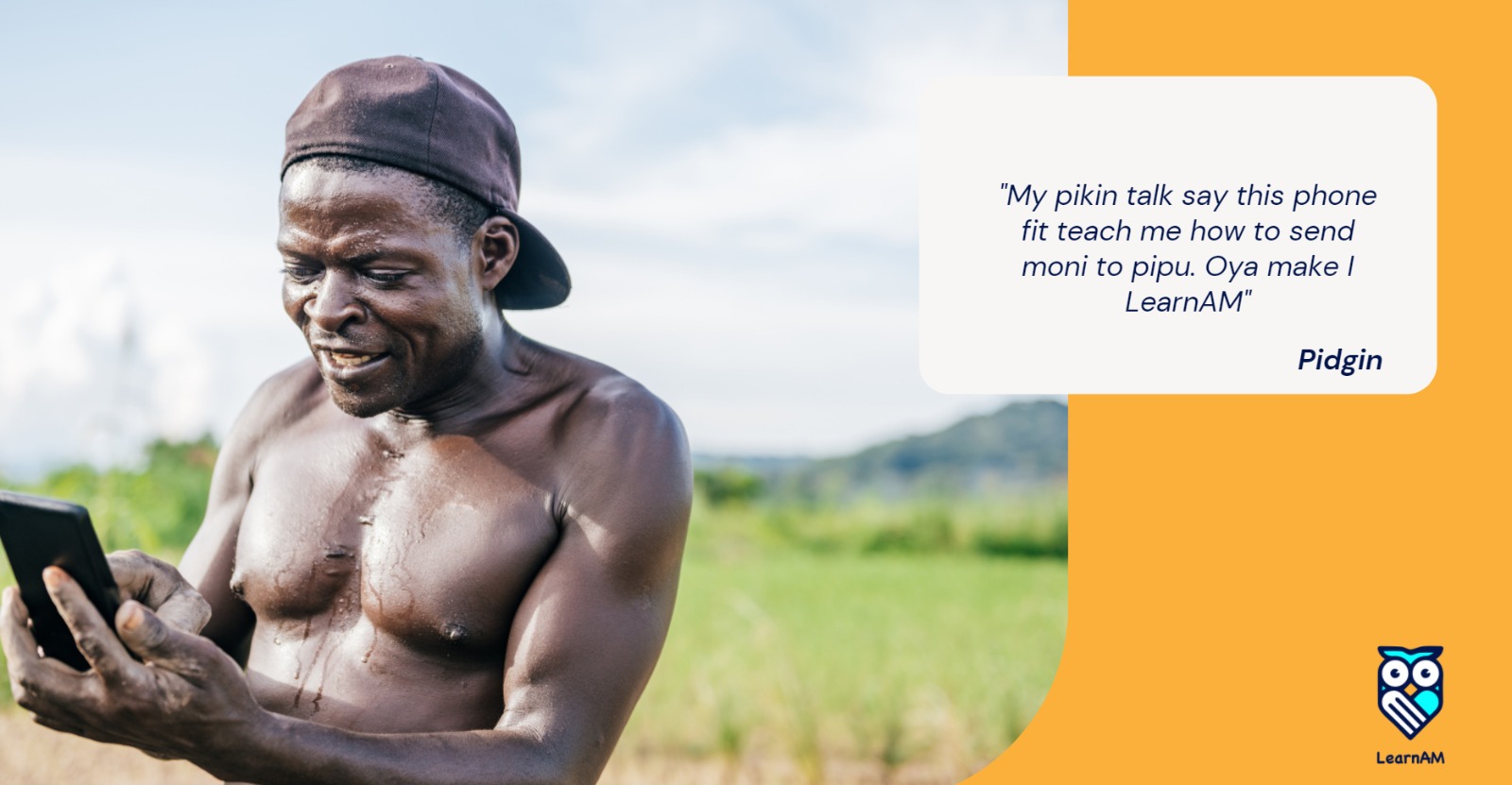 Have you once felt entrepreneurship is less-rewarding and you are better off doing something else?
There is this thing with entrepreneurship that it is with too many highs and lows. One day, you feel on top of the world, things are clicking, plans are coming to fruition and working the way you expected.
And then, it could be a minute, it could be a day and everything will come crashing.
That peak high becomes a very deep low. I can tell you that a lot of entrepreneurs have applied for jobs. Sometimes, things will just go murky and you will be like I got a family, this thing is not going to work and then you look for work and suddenly things work and you are like never mind.
It is a rollercoaster but what holds you is the reason you are doing what you are doing. Do you like to control your time? Do you like to create things? Do you like to make things happen?
These things will keep you going for as long as you can persevere. But at the end of the day, you need to make money.
And if you have a family, it makes you worry. But then if you see things moving, you will always fall back on your why – Why are you trying to build a company? Think of if it succeeds, the generational wealth you will get from it.
So those reasons will keep you in, but to say that things don't come across your mind to say ooh, am I wasting my time or I should go find something else to do to at least pay bills, you are not being honest.
So we keep pushing even if it is a roller coaster.
Can Nigerians entrepreneur their way out of bad government policies?
One of the key problems is that entrepreneurs are not part of the policy making, voluntary or involuntary.
For the most part, they are not invited to the table and on the other part; they are not proactive about it. And I am saying this loosely, I do not want anybody to say I am generalising but from my lens I see people are not trying to be part of the process.
There is this thing about innovate first and policy follows. That could work in other places or industries. If you are in a highly regulated industry, you better be a few steps ahead to make sure that regulators are on your side when you are picking your board, advisors and even investors, you need stakeholders that can help intervene whenever you need them.
We have so many problems in Nigeria, we definitely can entrepreneur our way out of it but we need to be part of the process. We can entrepreneur our way with policies, It is a collaborative process that needs to happen.
Because I know when people say entrepreneur our way, it is some type of discouraging that the government is bad but what needs to happen is for entrepreneurs to be part of the process and we need to be proactive about it.