APC Senators Explain Why They're No Longer Impeaching Saraki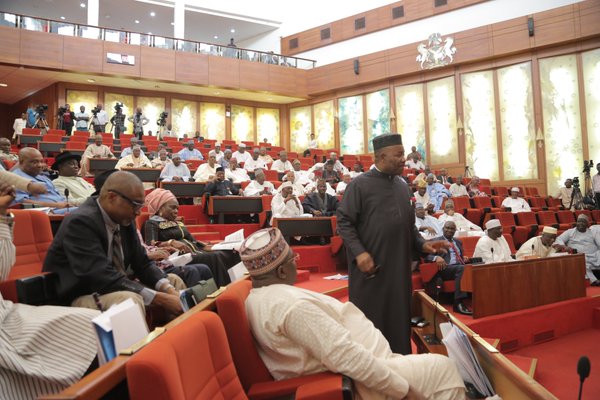 Estimated Reading Time: <1
The Senate Leader, Ahmed Lawan (APC, Yobe), however, made a formal announcement on Friday after meeting President Muhammadu Buhari at the State House that the senators representing Nigeria's ruling party, APC, have dropped plans to remove Bukola Saraki as president of the Senate.
"We definitely have to bury our hatchets for us to work for Nigeria and Nigerians. Perhaps that might have informed the disappointment of many people that there will be crisis in the National Assembly," Mr Lawan told State House journalists.
Mr Lawan said all the senators across party lines have agreed to work in national interest.
"I don't know what informed your view to anticipate crisis but let me tell you that National Assembly will continue to remain focus on national issues, we must be patriotic, nationalistic," he said.
The senator then suggested the he and his APC colleagues had put national interest above party interest by abandoning the plot to remove Mr Saraki.
"We must put national interest above individual, parochial or partisan interest.
"Let me also say that disagreements are usual. In fact, there are very practical components of any parliament, when you have two to three parties or even within parties, you will have views that may differ.
"It is traditional, it is usual for us to disagree. Maybe these disagreements may crop up and some other issues. But for now, our focus is on national interest," he said.