Rotimi Amaechi Says There's A Conspiracy By Judges To Take Him Out Politically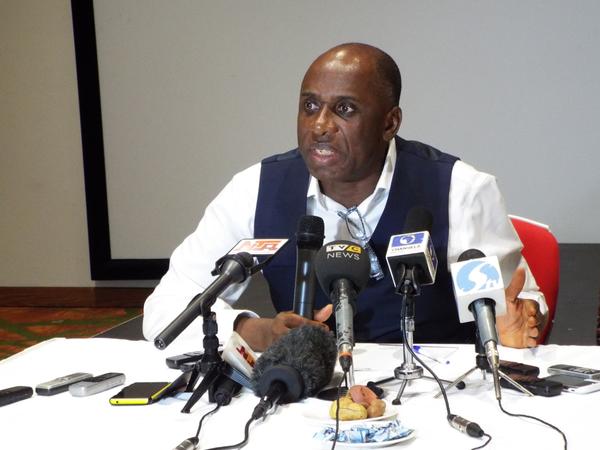 Estimated Reading Time: <1
The Minister of Transportation Chibuike Rotimi Ameachi has denied the allegations by Justice Ngwuta as 'pure ficton' and a means to muddle up the investigations by Department of State Services (DSS).
Ameachi in a statement from his media team Thursday Night said "The Hon. Justice Ngwuta's allegation as it concerns Amaechi is nothing but pure fiction, a dubious diversionary tale concocted to muddle the very serious issues of his arrest and investigation by the Department of State Services (DSS)".
The transport minister also denied the allegations that he had tried to influence some court decisions.
He said "that [I] did not and has never tried to lobby, induce or make the Hon. Justice Ngwuta to influence the outcome of any matter before the Supreme Court or any other court."
He further stated that Justice Sylvester Nguwuta is attempting to drag him in to a DSS investigation.
"Within a space of 48 hours, we have observed a carefully planned and coordinated political attempt to drag [me] into the DSS arrest and investigation of judges in Nigeria.
The aim of the plot is two-fold: to smear and politically destroy the image and reputation of Amaechi, and deceitfully portray him as the person behind the arrest of judges. This is indeed most ridiculous and callous", He stated.
While Adding that it was a well funded plot to take him out "We are aware of a well timed, heavily funded plot to "take out" Amaechi politically, and it appears that Justice Ngwuta and Justice Inyang Okoro, have wittingly or unwittingly been conscripted into this devious politics of "destroy Amaechi by all means."
Justice Ngwuta and Justice Okoro in their separate letters to Nigeria Judicial Council (NJC) had accused Ameachi of bribery and attempts to influence court decisions.