Anti-grazing Law: Ekiti Governor, Ayodele Fayose Is Confiscating Cows For Stomach Infrastructure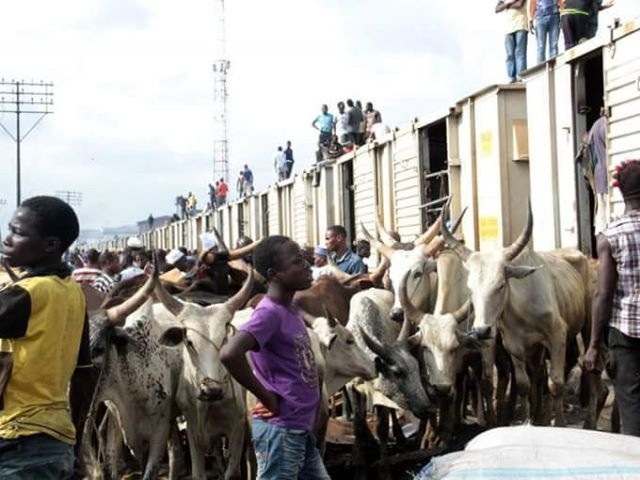 Estimated Reading Time: <1
Ekiti State Governor, Ayodele Fayose said on Thursday that any cow confiscated under the State Grazing Regulation Law will be killed and shared to the people as part of the "Stomach Infrastructure" policy of his administration.
"Any cattle found grazing after the time stipulated by the law will be confiscated by the government. Such cattle will be sold or killed on the spot ?and shared to people as part of our Stomach Infrastructure programme," he said in Ado-Ekiti during the roll-out of Ekiti Grazing Enforcement Marshals (EGEM), the body saddled with the enforcement of the recently signed law.
Under the new law, herdsmen caught grazing their cattle beyond the 6PM risks six months jail while their animals will be confiscated.
The governor said that the setting up of the enforcement agency was to ensure that the killing of innocent people and destruction of their means of livelihood by armed herdsmen is stopped.
Fayose said that the marshals are not to carry arms and so would collaborate with security agencies to tackle armed cattle rearers.
He said: ?"We have a right to life and to survive and holding things for our survival especially peasant farmers, whose means of livelihood are taken away by cattle feeding on their crops.? If the gains of peasant farmers are taken away in a jiffy, that is condemnable.?
"We will bring to a permanent end, the situation whereby some people take away the means of livelihood of others.
"On August 29, 2016, the Anti-Grazing Bill was passed by the House of Assembly and the bill was signed into law by me on August 30.? Some people go as far as grazing in the night when farmers are no longer at their farms.?"
Fayose had personally 'arrested' a cow along Afao road as the herdsmen fled on sighting him.
Fayose contended that 10, 000 cattle could not compensate for the life of the human being lost to a conflict between herdsmen and local farmers.
While frowning at cattle rustling by some people, Fayose added that the law was in the interest of cattle rearers too, as their operations would be streamlined.
He warned the marshals against overstepping their bounds.
"This is not an opportunity to harass or intimidate innocent people. You are to enforce the law and not to break it. Anybody found going beyond his bounds would be dealt with accordingly," he said.