Sports Minister, Solomon Dalung Blames NFF Crisis On FIFA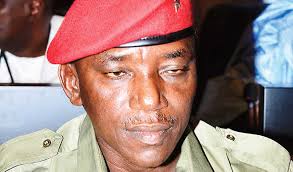 Estimated Reading Time: <1
Nigeria's Sports Minister, Barrister Solomon Dalung has blamed the current crisis rocking the leadership of Nigeria Football Federation (NFF) on 'hypocrisy of the FIFA statutes' that promotes gross indiscipline among its members.
Barrister Dalung made the statement in the wake of a Federal High court ruling in Jos which nullified the election of the current executive of the Nigeria Football Federation.
"All happening today in NFF is the hypocrisy of FIFA statutes that encouraged indiscipline amongst its members while using ban monster nation," he maintained. He continued: "I will stand for anything that is in the interest of the nation but whatever is not fair and just, I will resist it with all vehemence. Under my watch anarchy has no place all those hoping to take office must follow the rule of law anything to the contrary is not acceptable.
"All those shouting FIFA ban must know that government did not intervene or went to court so FIFA should discipline its members and not Nigeria. All those accusing me now are the beneficiaries of NFF crisis because they make allegations to escalate the situation."
Reacting further, the comrade minister condemned some of the new reformation the Giwa-led NFF is embarking upon after the court injunction. "For Giwa who went to court then issued such announcement of dissolution while right of appeal lies to Amaju is unfortunate and bad enough.
"If Giwa went to court then he must know that the same court gave Amaju right of appeal he cannot now resort to self help justice. If football matters had been taken to court by Giwa then he must allow it to run full course he has no right to dissolve or appoint now. I have said severally that all this fight in NFF is for personal interest and not football otherwise what is responsible for this shame."
"The announcement of the dissolution of standing committees and appointments by the Giwa led executive, even when the Amaju -led board has indicated their right of appeal, cannot promote stability in football. I am therefore calling on all parties to the dispute to maintain peace and respect the rule of law. By this token, the judicial process must be allowed to run its full course, unless and until any of the parties wishes the contrary.
"As a supervising Ministry, we are committed to maintaining law and order and will not accommodate threats to the peace of sports and the country. The interest of the nation supersedes any other interest," the Minister said. Meanwhile, Barrister Dalung warned that the Ministry will not allow threats to the peace of the country.