Prosecution Of Former Governor Akpabio "Falsehood Taken Too Far" Says State Govt.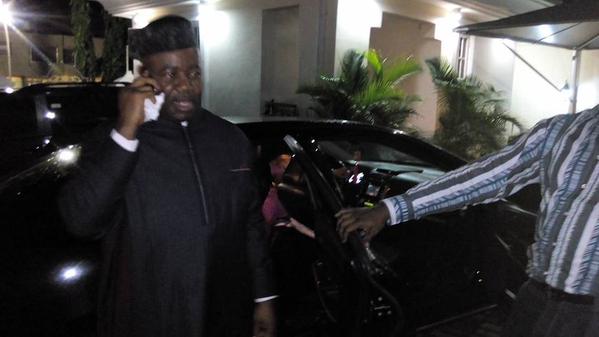 Estimated Reading Time: <1
The commissioner of information during the administration of Mr. Akpabio, Aniekan Umana, has  described the contents of the petition by Mr. Leo Ekpenyong against former governor Godswill Akpabio  as falsehood taken too far.
He said the petition betrayed a lack of understanding of the workings of government.
"Every sum withdrawn from a government account is tied to a subhead and there must be a budgetary provision. To attribute fraud to withdrawals which had the full sanction of Government and was accommodated in the budget is strange, mischievous and untenable. More so, when one understands that there are checks and balances which guide all aspects of government financial administration," he said.
He also said the allegation that the State Government spent N50 billion on the March General Elections falls flat on its face based on his explanations of the workings of government as regards financial transactions.
"There was no such provision in the budget of this year and such an amount could not have been paid as an extra-budgetary expenditure and yet salaries and other commitments were met. We challenge the petitioners to provide proof to support this wild allegation. Who was it paid to? How was it paid? Where was it paid? And when was it paid?
"Senator Akpabio does not own a 25-storey building in Victoria Island or in any part of the world, as alleged by the petitioner. It is also a patent falsehood that the house at 22 Probyn Road, Ikoyi belongs to Senator Akpabio.
It is a rented building which ownership can be verified from the Lagos State Lands Registry.
"Senator Akpabio does not own the properties mentioned in the petition to belong to him. You can verify the ownership of the properties (5 Okokosi Close, Maitama and Plot 28 Colorado Close, Maitama) from the land registry in Abuja," he said.
He also denied that the state received over N2 trillion as oil allocation.
"Please do note that the idea that the Akwa Ibom State Government received over N2.5 trillion in the eight years of the Akpabio administration is an outrageous lie. What this suggests is that the State Government received an average of N26 billion monthly for the period. What a lie! From published accounts of disbursement from the Federation Accounts, Akwa Ibom State never received up to N26 billion in any month throughout the period.
"Note that in some months like the April and May, 2015, Akwa Ibom State received about N8 billion."