MASSOB Leader Says Boko Haram Insurgency Will Stop When Biafra Gains Freedom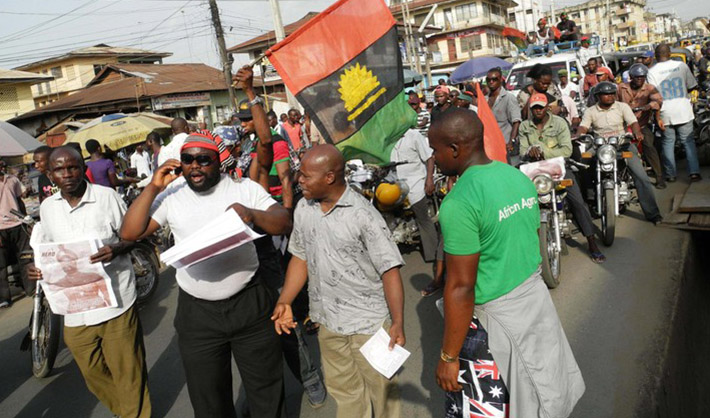 Estimated Reading Time: <1
National Leader of the Movement for the Actualisa­tion of the Sovereign State of Biafra (MASSOB), Chief Ralph Uwazuruike, said that the war against Boko Haram would never end unless Bi­afra becomes an independent nation.
Uwazuruike, who spoke through his Deputy National Information Officer, Mazi Chris Mocha in Nnewi, Anambra State maintained that insurgency would con­tinue to spread if Igbo are not allowed to go to their 'prom­ised land'.
According to Sun Newspaper, he said the Biafran agita­tors had nothing in common with Boko Haram or any violent group but maintained that it would be logical and reasonable enough to allow any group in Nigeria like MASSOB that clamoured for self-determination to actual­ize its dream.
Uwazuruike insisted that since the Igbo had insisted to be on their own, the Federal Government has no other op­tion than to allow them go, adding: "We are not fighting for our independence through violence or in violation of the law."
Speaking in Lagos, Uwa­zulike urged Ndigbo to come together with the goal of speaking with one voice in the common interest of the Igbo race.
Uwazulike made call dur­ing this year's annual New Yam Festival organised by Eze Ndigbo of Lagos, Eze Christian Uchechukwu Nwa­chukwu, Igbo communities and Ohanaeze Ndigbo in the state.
At the event, attended by Executive Secretary, Isolo LCDA, Hon. Segun Jubrin,, Senator Oluremi Tinubu who was represented by Executive Secretary Lagos Island LGA, Mrs Omolara, the Iya Loja general, Mrs Folashade Tinu­bu Ojo who was represented by 20 Iyalojas in the state and Eze Ndigbos in all the LCDAs, Uwazulike declared that right from the pre-inde­pendence till date, Ndigbo had contributed immensely towards the development of modern Nigeria through trade and commerce. He said this venture has made them the second most populated tribe after their host community.