Former Jonathan's Minister, Omobola Johnson Says "Buhari Is Being Unfair With Ministers Who Work Hard"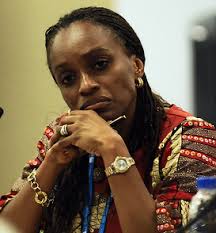 Estimated Reading Time: <1
Omobola Olubusola Johnson a former Nigerian Minister of Communication Technology in the cabinet of President Goodluck Jonathan has reacted to statements made by President Muhammadu Buhari where he said Nigerian Ministers are noise makers.
President Buhari who is already undermining the role of Nigerian Ministers much before they're appointed during an interview with France 24 said "The ministers are there, i think they make a lot of noise; for the politicians to make a lot of noise."
Mrs Johnson who also called for the reforms of the civil service while condemning Buhari's statement was one of the technocrats and the pioneer head of Nigeria's communication technology ministry, which was created as part of the transformation agenda of the Nigerian government.
@Omojuwa Pres. Buhari is being unfair to Ministers who work hard & don't make noise.The civil service is broken and it needs to be fixed.

— Omobola Johnson (@OmobolaJohnson) September 16, 2015
Omobola has earned several public commendation since taking up her first government assignment as minister in 2011.
Listen to the interview President Muhammadu Buhari granted France 24 below where he said Nigerian Ministers are noise makers....