Despite Buhari's Assets Declaration, Nigerians Unimpressed With President's First 100 Days |CNN Report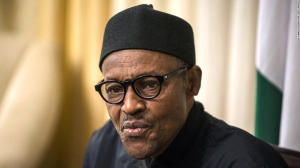 Estimated Reading Time: <1
Nigerian President Muhammadu Buhari says his assets include $150,000, two mud houses, livestock and an orchard, and a plot of land the exact location of which he has yet to trace, reports CNN's Christian Purefoy.
The asset declaration, which Buhari's spokesman described as "Spartan," comes as the President reaches 100 days in office.
Despite Buhari's declaration, some Nigerians have not been impressed with his first 100 days. At newspaper stands and beer joints around Lagos, you can hear the nickname "Baba Go-Slow" — on account of the perceived slow pace of Buhari's promised changes.
"Buhari is just making statements and press conferences, which I really don't understand," says Emmanuela Mutumi, a makeup artist in Lagos. "He needs to focus on what the people need."
Buhari, 72, was elected President in March after campaigning on promises to fight corruption and beat the terrorist group Boko Haram in northeastern Nigeria. After his election he said he intended to "plug holes" in the "corruption infrastructure" in the country.
Buhari himself was the nation's commissioner for petroleum resources in the late 1970s.
Many Nigerians still believe in his integrity in the fight against the corruption and Boko Haram, but there are concerns that after three months, no ministers have been named to his Cabinet.
Buhari has argued that he inherited from the previous administration a mess so large that it will take time to fix.
"One hundred days is too small," says Paul Audifferen, an engineer in Lagos. "You have to give him time. Nigeria will take decades to repair because the corruption has been there for a very long time. So you don't expect him to just come from out of the blue, snap his fingers and say these are the glorious days."