Senator Ningi Makes Leniency Plea To Jonathan For Sanctioned Permanent Secretary In Foreign Affairs Ministry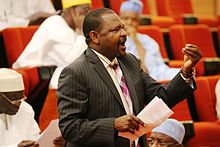 By Chris Nomjov
Deputy Senate Majority Leader, Abdul Ningi, has made a plea of leniency to President Goodluck Jonathan on behalf of the Permanent Secretary of the Ministry of Foreign Affairs; Danjuma Nanpon Sheni for recalling Nigeria's High Commissioner to South Africa, following xenophobic attacks in the country.
The Senator representing Bauchi Central urged the President to extend his mercy and forgive the Permanent Secretary, who was sanctioned and remains punished, for ordering the recall of Nigeria's envoys to South Africa without authorisation.
Mr. Sheni's decision to recall the officials was in protest to the recent xenophobia in the South African country, this move was criticized by the South African Government headed by President Jacob Zuma.
Ningi also criticized Sheni for his actions but told the Senate to intervene and ask the President to tamper justice with mercy.
"I am aware that the president and Commander-in-Chief is responsible for such a call and also aware that the permanent secretary has no power whatsoever to recall an ambassador without a clear directive by the government," he said.
"Knowing the anger and the mood of this country and believing that the Senate and indeed the National Assembly, did the right thing in suggesting and urging for the executive to recall the ambassador.
"I therefore want this Senate not to look the other way and the president, Commander-in-Chief of the Nigerian Armed Forces to tamper justice with mercy.
"It is indeed his responsibility, powers and jurisdiction and I think it's important at times like this that the Senate president should urge the president, so as to say the permanent Secretary should not be dismissed.
"He did the wrong thing at the wrong time and he should not have done it because of the mood so the president, a humble man should tamper justice with mercy," said Mr. Ningi.
Nigeria's deputy Senate President, Ike Ekweremadu, who resided over the issue said that the message will be conveyed to the president.
The 2015 xenophobic attacks on foregners in South Africa, was largely aided by an alleged hate speech by Zulu King Zwelithini, who said that African nationals living in South Africa, were responsible for the inability of local South african blacks, securing jobs.
The xenophobic attacks; assaults and thefts, prompted reactions as countries like Congo and Malawi, recalled their envoys and boycotted South African businesses; while Nigerians called for the recall of the High Commissioner and boycott of South African businesses.