Navy Ship Arrests 13 Alleged Oil Thieves; After Intercepting Illegal Foreign Vessel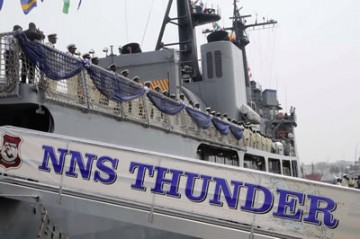 Estimated Reading Time: <1
The Nigerian Navy Central Naval Command, in Bayelsa State, has arrested 13 suspected oil thieves and intercepted vessel laden with stolen crude oil. The suspects and the illegal vessel, named MT REDEMPTION, were apprehended at Middleton and Peddington area of Brass, Bayelsa State, off the Atlantic Ocean.
The suspects were paraded at the command's Forward Operating Base (FOB Formoso) at Egwema, Brass, Bayelsa State, on Wednesday, and handed over to the operatives of the Economic and Financial Crimes Commission for further investigation and prosecution.
The Flag Officer of the Central Naval Command, Reat Admiral Stanley Ogoigbe said the gigantic oil vessel with 11 suspected oil thieves were arrested on January 20, 2015. He said, "When the patrol team searched the vessel, it was discovered that some tanks including drums kept on the main deck were laden with products suspected to be crude oil approximately 100,000 litres.