U.S Secretary Of State, John Kerry Visits Nigeria: Meets With Jonathan And Buhari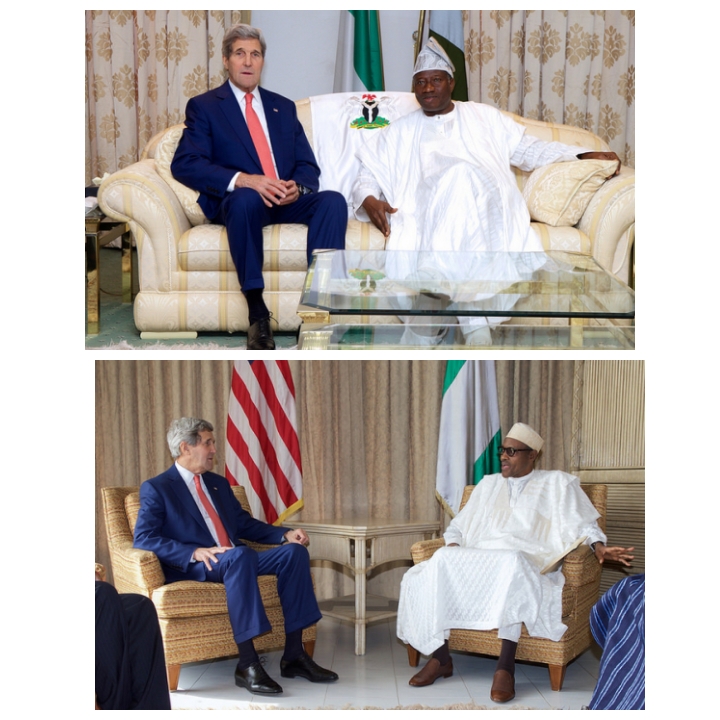 Estimated Reading Time: <1
The United States Secretary of State, John Kerry arrived Nigeria, for crunch talks with incumbent President, Goodluck Jonathan and main opposition party candidate, General Muhammadu Buhari. Mr. Kerry's visit is for crucial discussions with presidential hopefuls, ahead of the general elections, billed for February, 2015. The Secretary's visit is timely, as it would involve discussions on the security challenges in the country and the likelihood or otherwise, of postponing the polls. Also, among the agenda of Mr. Kerry's meeting is to appeal to Mr. Jonathan and Mr. Buhari to accept the result of the Feb. 14 election and instruct their supporters to refrain from violence.
The meeting with the two leading candidates in the upcoming presidential election shows deep U.S. concerns about post-election violence in the country that is already devastated by Boko Haram insurgents.
Mr. Kerry's brief visit is a departure from the U.S. policy that disallow its senior officials from visiting countries about to hold elections, to avoid the perception of supporting one candidate against another.
This is the first time a chief American diplomat is visiting the country since 2012. State Department officials are quoted as saying that Mr. Kerry will hold separate talks with President Jonathan and his leading opponent, Mr.  Buhari, a former Army general.
The secretary of state previously has paid similar visits to countries struggling with instability including Lebanon in 2009 and Iraq in 2005.
A dispute over President Jonathan's emergence in 2011 had sparked riots in some states in Northern Nigeria that resulted in the death of people including Bauchi, Kaduna and Kano. The country's election is coming amid increasing attacks and kidnappings and destruction by Boko Haram insurgents especially in North-east Nigeria.
As at this time, the details of the closed door meetings between the Secretary of State and the two presidential candidates, have not yet being disclosed, as both parties remain tight lipped. As soon details of the meeting are made public, they would be reported in this space.