Nigerian Soldiers Foil Boko Haram Attack in Maiduguri; Looses Mungono To Insurgents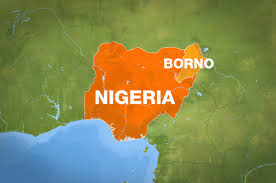 Estimated Reading Time: <1
The Nigerian army has successfully foiled this morning's attack by suspected members of the Boko Haram on Maiduguri. According to sources at Premium Times, the onslaught by insurgents to capture the state capital, has been defused with great success.
However, it was learnt that, the neighbouring town of Montana, which was also under terrorists siege, appears to have been taken over by the insurgents who are also said to have taken over the military barracks there, a senior soldier in the state capital told Premium Times.
Further facts revealed that, asides battling with attacks from both fronts, soldiers were also battling the rampaging insurgents in Konduga, a town 35km from Maiduguri. The military is expected to release details of the attacks after the battles are completed.
Our source said scores of people including soldiers and insurgents have been killed on the outskirts of Maiduguri since the current battles started late Saturday night. Confirming the fall of Monguno to the insurgents, a military source said "we have decimated the idiots (from Maiduguri) but Monguno has fallen".
He said the military casualty from the Maiduguri and Monguno battles had been recorded, but would not provide details. Meanwhile, there was no official statement on the expiration of the curfew, that was declared in Maiduguri, the Borno state capital, during the siege of the insurgents.