Jonathan In Maiduguri, Promises Better Welfare For Troops, Visited Injured Soldiers At NA 7 Division Hospital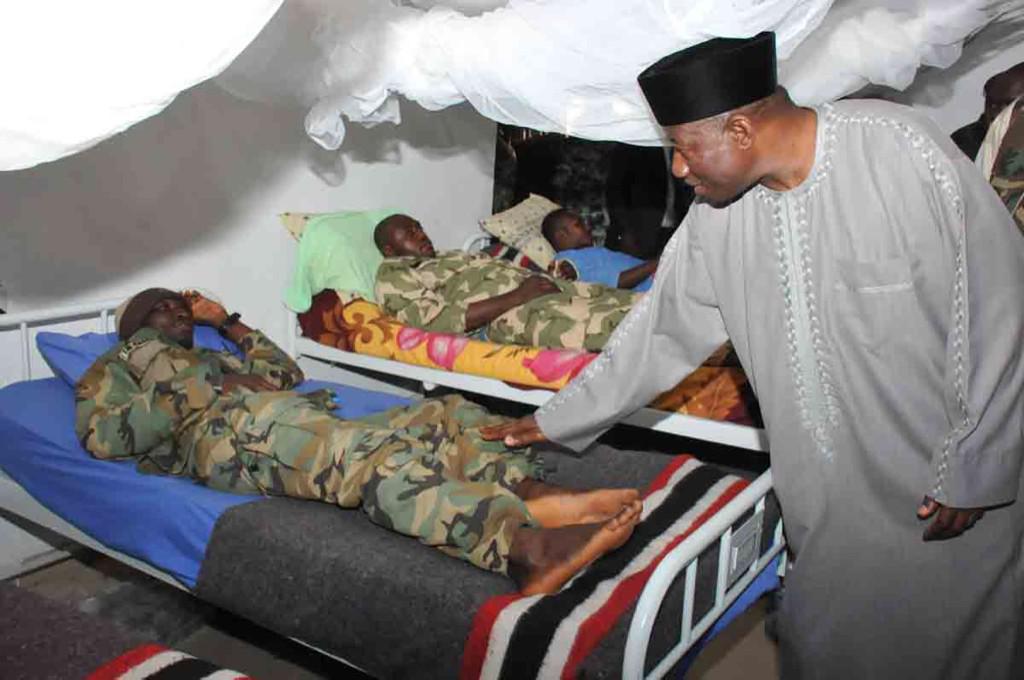 Estimated Reading Time: <1
President Goodluck Ebele Jonathan Thursday undertook a surprise visit to Maiduguri on the occasion of Nigeria's Armed Forces Remembrance Day.
A statement by presidential spokesman Reuben Abati said he met with officers and men of the Armed Forces in the frontline of the war against terrorism and insurgency in the country.
The spokesman said he was accompanied by the Chief of Defence Staff, Service Chiefs, the National Security Adviser and the Director-General of the National Emergency Management Agency.
At the 7 Division of the Nigerian Army at Maimalari Cantonment, President Jonathan thanked officers and men for their patriotic and courageous service to the nation.
He said Nigeria was very proud of them and grateful for their dedication and commitment to the defence of the civilian population against terrorists and violent extremists.
He also assured the troops that the Federal Government will "continue to do everything possible to ensure that they get the weapons, equipment, welfare and logistics support they require" to defeat the insurgents and restore full security and normalcy to affected parts of the country, Abati said.
"In terms of equipment and logistics, we have already made considerable progress since the insurgency started and we will continue to improve in that regard until your operations are successfully concluded," he told the soldiers.
President Jonathan toured the 7 Division Hospital and Medical Services Centre where he met with soldiers recovering from injuries sustained in operations against Boko Haram, and wished them speedy recovery.
Before leaving the Borno State capital, President Jonathan visited over 900 displaced persons from Baga at a camp in the city.
The President commiserated with the displaced persons on the losses they suffered during the attack on their town by Boko Haram.
He promised them that the Federal Government will strive to make their stay in the camps more comfortable while it continues to do all within its powers to restore peace and security to enable them return to their homes soon.
"Terrorism and insurgency have been very traumatic for all of us. I feel particularly disturbed when I hear of our people being displaced within their own country," he said. "I assure you and other displaced persons that Government is working very hard to ensure that you do not remain in these camps for too long."
He also promised financial assistance to them to enable them rebuild their homes and eventually return to them.
The President thanked the Red Cross and other international organizations that have been assisting in the provision of relief materials to the displaced persons, and charged local, state and federal officials to harmonize their work in support of the displaced persons.
"I do not want to be hearing conflicting reports on support being given to them. Government is one and we must all work together to assist our people whenever the need arises," Mr. Jonathan said.