World Leaders Arrive In Abuja For Nigeria's Centenary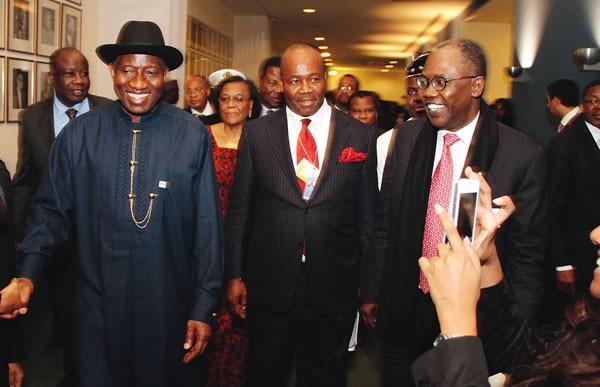 Estimated Reading Time: <1
NAN
More than 12 Heads of State arrived at the Presidential Wing of the Nnamdi Azikiwe International Airport, Abuja, on Wednesday ahead of Thursday's (today) centenary, the News Agency of Nigeria reports.
The visiting Heads of State were received at the airport by some members of the Federal Executive Council.
Those that were received at the airport include Presidents Hifikepunye Pohamba of Namibi; Paul Kagame of Rwanda; Yahya Jammeh of Gambia and Prosper Bazombaza of Burundi.
President Helen Sirleaf of Liberia and the former Secretary-General of Organisation for African Union, Dr. Salim Ahmed Salim, who led the Tanzanian delegation also arrived in Abuja on Wednesday for the celebration.
Also arrived in Abuja were the President of Mauritania, Mohammed Ould Abdel Aziz; Ethiopian President, Mr. Hailemarian Desalegh; and the European Union President, Mr. Jose Manuel Barroso.
The Zambian Minister of Defence, Mr. Edgar Lungu, will represent the Zambian President, Micheal Saata. Israel is also being represented by its Minister of Agriculture, Mr. Yair Shamir.
An official of the Ministry of Foreign Affairs, who did not want to be mentioned, told NAN that 42 Heads of State were being expected to attend the celebration.
Meanwhile, United States President Barack Obama has designated State Counsellor Thomas Shannon as the leader of a presidential delegation to the centenary in Abuja.
A statement in Abuja on Wednesday by the State Department said Shannon would meet with government officials and participate in high-level activities with other world leaders during the centenary.
The US official, who is expected to deliver a message from Obama to Nigeria, would also travel to Lagos for discussions on a range of issues of mutual interest and interact with Nigerian youths.
Also, President of the Swiss Confederation, Didier Burkhalter, has sent a letter of congratulations to President Goodluck Jonathan on the nation's centenary.
Burkhalter would be represented at the celebrations by the Swiss Ambassador to Nigeria, Dr. Hans-Rudolf Hodel.
"May the ties of confidence and friendship which so happily exist between our two countries continue to flourish in the coming centenary,'' the Swiss president wrote.
The major highlight of the week-long activities includes an international conference on peace and security in Africa on Thursday to be attended by several world leaders.
The British colonial authorities had on January 1, 1914 amalgamated what were then the separate protectorates of Southern Nigeria and Northern Nigeria.
The amalgamation gave birth to the single geo-political entity known as Nigeria.
The celebrations will also feature the conferment of honours on 100 Nigerians, with about 40 per cent of the awards to be presented posthumously.